USBDeview lists all USB devices currently and previously connected to a computer. This small utility provides information about the devices and can help with troubleshooting USB issues.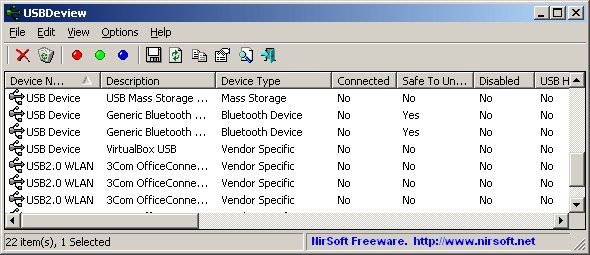 USBDeview is a reliable software utility that provides a comprehensive list of all USB devices that are currently or previously connected to your computer. This tool displays an array of extended information highlighting the device's type, name/description, product ID, VendorID, serial number (for mass storage devices), addition date/time, and more.

USBDeview offers a convenient way of managing your USB devices by allowing you to uninstall any previously connected devices and disconnect any currently connected devices. Additionally, this software can also be used remotely on a computer accessible with admin user login, making it a versatile tool.

Thanks to the intuitive interface and user-friendly design, USBDeview is straightforward to use for both novice and advanced users. The information provided by this software can be used for diagnosing USB connectivity issues, identifying connected USB devices, and managing your computer's USB devices effortlessly.

In conclusion, USBDeview is an excellent software solution that offers comprehensive features for managing your USB devices effectively. It is a must-have USB utility tool that can make your computer usage much more seamless.
What's New
Version 3.07: N/A
Version 3.06: N/A