VanDyke ClientPack provides secure automation of file transfer, shell, and public-key administration tasks, ensuring compliance with security policies, saving time, and reducing human error.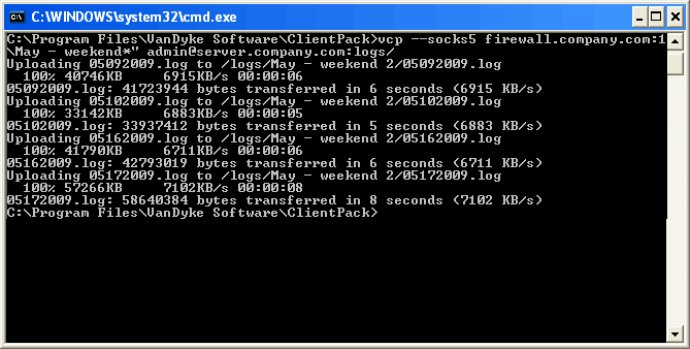 VanDyke ClientPack is an all-encompassing suite of automation tools for file transfer, shell, and public-key administration. It enables users to save time when performing routine administration and configuration tasks. The key component of this software is VRALib. VRALib is a COM and .NET API that allows for SSH2 connections custom scripting in Windows. This feature empowers users to create unique automated workflows that fit their individual needs.

Other command-line utilities included in the ClientPack are vsftp, vcp, vsh, vkeygen, and vpka. Vsftp is an interactive SFTP command-line utility that provides secure file transfers. Vcp is a command-line file transfer utility. Vsh is a command-line shell utility, whereas vkeygen is a public/private key generator utility. Finally, vpka is a command-line tool for uploading keys to Secure Shell servers.

All utilities are designed with a variety of authentication options to ensure users can use them comfortably. They include password, public-key (RSA, DSA, and Smart Cards using X.509), Kerberos v5 (via GSSAPI), and keyboard-interactive authentication when connecting to SSH2 servers.

In terms of security, ClientPack provides encrypted logon and session data, with support for vsh port forwarding to secure TCP/IP data, X11 forwarding, and vcp and vsftp for secure SFTP file transfers.

VanDyke ClientPack provides a 30-day evaluation license for the fully-functional application and technical support. This software is a must-have for anyone looking to automate routine administration tasks and secure their file transfers.
What's New
Version 9.1.1: VanDyke ClientPack 9.1 introduces support for macOS Big Sur, so you can take advantage of the improvements in the latest macOS platform