The vCard Export Tool allows you to easily transfer MS Outlook contacts to a VCF file. You can also convert Outlook contacts to a Windows Address Book WAB file or various other formats, including CSV, HTML, MSG, and more. This tool is the best solution for converting MS Outlook contacts to VCard files, PST, PDF, and even Google & Yahoo CSV.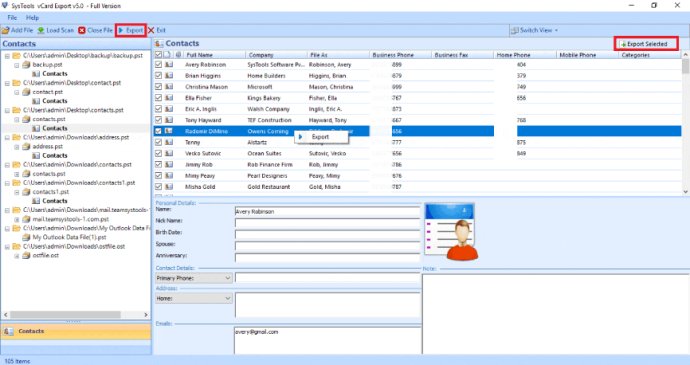 The vCard Export tool is an excellent way to convert contacts from one file format to another. This software is loaded with features that provide convenience and flexibility when converting files to your preferred format. With the vCard VCF file format, you can access your contacts from anywhere. For instance, if you want to export Outlook contacts to Lotus Notes, you can export Outlook contacts to vCard instead of NSF format.

The software offers multiple conversion features that make the process of converting contacts complete and secure. Your data and metadata information remain safe during the conversion process, which is a significant plus. This software provides an easy way to convert MS Outlook contacts to Windows Address Book (.wab), CSV, vCard (VCF) file, CSV, HTML, PST, PDF, Google & Yahoo CSV.

The conversion process can be done for one or the entire contact list of MS Outlook in a single turn. Converting PST contacts to vCard is made easy by using our vCard Export Software. This software reads contacts from MS Outlook PST file, performs PST processing to extract Outlook contact information, and converts it into vCard format. You can export corrupt, orphaned, or password-protected PST files.

The software allows you to convert contacts from the default PST file or select another PST file to export contacts from the desired PST file. It is the best solution to convert PST to WAB file as it easily converts MS Outlook Contacts to Windows Address Book WAB file. This Award-Winning vCard Converter tool is designed for home users, business users and it supports all vCard formats such as v2.1, v3.0, v4.0, and all versions of MS Outlook.

Finally, the software provides a feature to auto-detect the file location and adds it to the software automatically. With vCard Export Software, your contact conversion problems are a thing of the past.
What's New
Version 5.0: N/A