This software suite includes PPT2Flash, PPT to Flash, and PowerPoint to Flash software programs for creating interactive flash presentations, demos, courses, and slideshows. Users can convert PowerPoint files to SWF, Flash, or PDF formats for sharing, training, or viewing at home.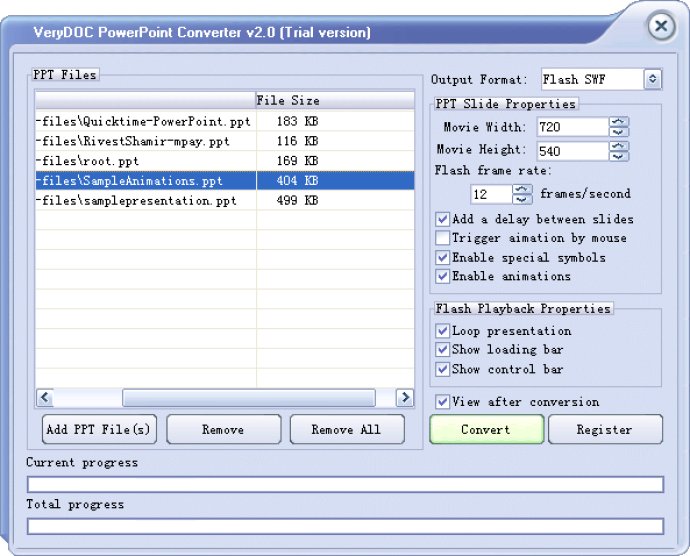 When it comes to creating dynamic and engaging presentations, the PPT2Flash software is an essential tool. This powerful software allows users to easily transform their PowerPoint presentations into Flash or SWF presentations that are sure to captivate their audience.

The PPT to Flash software offers a comprehensive range of features, including support for accurate PowerPoint conversion, 170+ PowerPoint animation effects, and all PowerPoint 2003 slide transition effects. Users can also add sounds to their animation effects and slide transitions, and take advantage of customizable width, height, and frame rate options.

One of the standout features of PPT2Flash is the ability to generate separate SWF files for each individual slide, which can be exported as individual files. Additionally, PPT2Flash supports slide navigation control with both a mouse and a keyboard, as well as customizable animations and transitions.

The software also retains slide timing, sound effects, headers and footers, action buttons and hyperlinks, and even supports .gif animation. Users can even convert their PowerPoint presentations to a variety of formats, including PDF, PS, GIF, PNG, JPEG, TIFF, BMP, WMF, EMF, MHTML, HTML, and RTF.

With a free trial available, PPT2Flash is an excellent choice for anyone looking for a comprehensive and versatile tool for transforming their PowerPoint presentations into dynamic and engaging Flash presentations.
What's New
Version 3.0: N/A
Version 2.01: PowerPoint to Flash,Convert PowerPoint to flash,Flash Presentations,PowerPoint to Macromedia Flash Converter,Free,Flash Presentation,PowerPoint Flash,PPT to SWF Converter,Flash Slideshow,PowerPoint Flash,PowerPoint to SWF,PowerPoint Templates,PowerPoint in Flash,PPT to Flash, Animation, Effect, Narration, Graphic
Version 2.0: PowerPoint to Flash,Convert PowerPoint to flash,Flash Presentations,PowerPoint to Macromedia Flash Converter,Free,Flash Presentation,PowerPoint Flash,PPT to SWF Converter,Flash Slideshow,PowerPoint Flash,PowerPoint to SWF,PowerPoint Templates,PowerPoint in Flash,PPT to Flash, Animation, Effect, Narration, Graphic