VidCrop PRO is a video cropping software for various formats. It helps users remove unnecessary frames and parts of frames, resulting in a zoomed-in, information-rich image.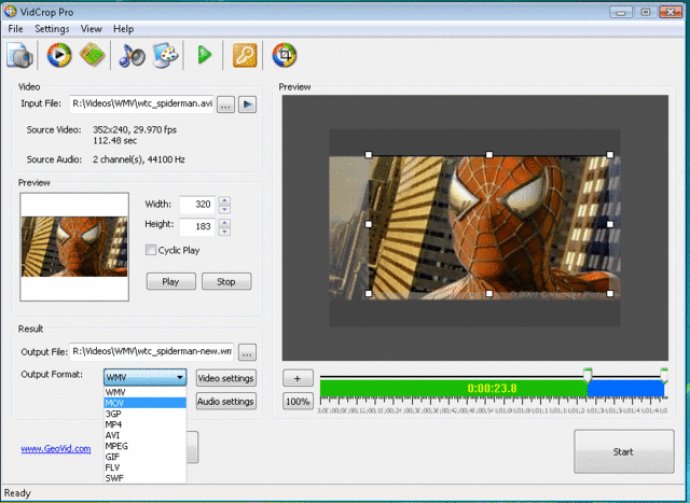 VidCrop PRO offers users a comprehensive video cropper that is capable of handling a range of digital video formats. With this software, users can eliminate useless frames and crop parts of the frames, resulting in a zoomed-in, tight image with more essential video information.

Thanks to VidCrop PRO, editing video files is quick and easy. Users can zoom in on their video files as much as their resolution allows, then produce a more informative and polished video that can be posted on their website, blog, or enjoyed on any computer.

One of VidCrop PRO's most useful features is its video preview for rangebar, which lets users select the video from the initial frame to the final frame. This enables users to remove any frames they don't want from either the beginning or the end of the video, so they can see how the video will look after cutting. Additionally, there is a preview for cropping, which shows users the crop frame within the preview box so they can select the parts they want to crop from each side.

VidCrop PRO supports most popular video formats, including *.AVI, *.WMV, *.MPEG, *.MOV, *.3GP, and *.MP4. Resulting movie files can be saved in avi, wmv, mpeg1, mpeg2, 3gp, or mp4 formats, all controlled with width, height, frames per second, and other codec properties.

Getting started with VidCrop PRO is easy. Simply select a video file, choose the desired segment to crop in the video preview, manage range bar for time limits, and click "Start." After converting, users will receive an avi or wmv video with a pixel size they have specified.

Overall, VidCrop PRO is an outstanding video cropper that is easy to use and provides users with valuable editing tools to make their videos stand out. Whether you're a beginner or a seasoned editor, VidCrop PRO is the software you need to take your video cropping skills to the next level.
What's New
Version 2.2.15: N/A
Version 2.2.14: N/A
Version 2.2.8: N/A
Version 2.2.2: N/A
Version 2.2.1: N/A
Version 2.2: N/A
Version 2.1.9: N/A
Version 2.1.8: N/A
Version 2.1.6: N/A
Version 2.1.5: N/A