Capture images from TWAIN compliant scanners and webcams and perform OCR and barcode reading using this software.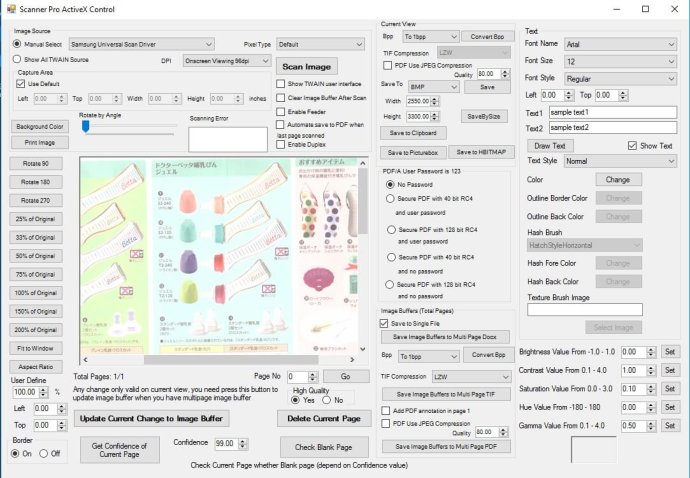 I recently had the opportunity to use a software that impressed me with its wealth of features and capabilities. This software supports PDF annotation, allowing you to add fonts, images, text, rotated text, lines, and rectangles to your PDF files.

One of the standout features of this software is its ability to scan multiple pages using a scanner with a feeder. Not only can you automate saving to multipage PDF or TIFF when the last page is scanned, but the software can also detect paper jam events.

Additionally, this tool allows you to capture images from all TWAIN compliant scanner and webcam devices and save them to Microsoft Word (docx), PDF, BMP, GIF, JPEG, JPEG 2000, PCX, PNG, PSD, TIF, TGA, PGX, RAS, or PNM image files.

Another feature that I found impressive was its ability to add text to specific pages in a multi-page Microsoft Word (docx) file. Furthermore, this software can load image files from your hard drive and perform OCR processes on an entire page or specific areas.

Other notable features include Blank Page Detection and the ability to get the confidence value of a specific page, which allows you to handle different blank page conditions accordingly.

When saving to PDF/A files, this software supports the use of JPEG compression and allows you to adjust quality to reduce file size. It can output small file size of PDF/A file. It also supports converting scanned images to 1bbp, 4bbp, 8bpp, 8bpp Grayscale, 24bpp, 32bpp, and 32ARGB bpp.

You can also save your files as multipage TIFF files, with options for compression such as JPEG, Packbits, LZW, CCITT G.3, and G.4. The software also allows you to save your files as 1bpp, 4bpp, 8bpp, and 24bpp TIFF files.

Additionally, you can secure your PDF documents using 40 bit, 128 bit RC4 encryption, and owner or user passwords, as well as adjust standard PDF permissions such as printing, high quality printing, changing the document, content copying or extraction, filling of form fields, content extraction for accessibility, and document assembly.

This software supports Delphi, C# 2019, C# 2015, C# 2010, Access, VB.Net 2019, VB.Net 2015, VB.Net 2010, Visual Basic, Visual C, and Visual FoxPro sample codes.

Overall, I found this software to be comprehensive and impressive in its capabilities, particularly in the OCR functionality and the support for various file types and compression options.
What's New
Version 12.0: N/A
Version 10.5: N/A