Vogla is a simple backup software for PC and MAC. It quickly installs and automatically backs up all your files. You can easily browse, access, download, stream and backup your files from your mobile device.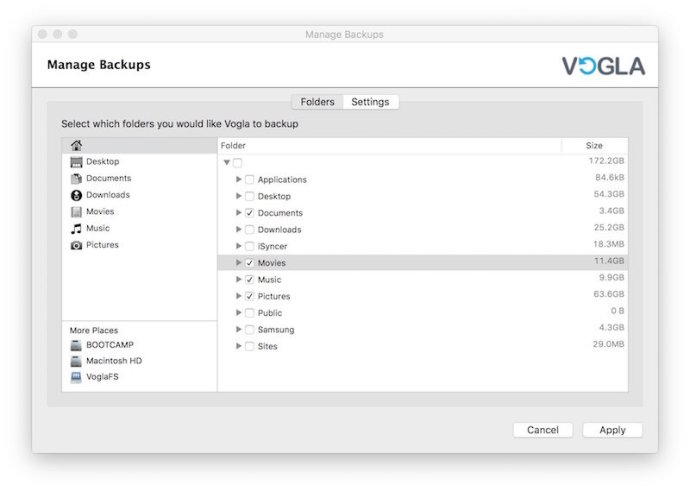 The Vogla software allows for unlimited backup of your important files with its fast, secure, and easy to use features. This software is available for both PC and MAC users and provides automatic online backup for all of your computers. You are also able to view your backed up files on the web, iPhone, iPad, and Android devices.

Vogla is simple to install and only takes minutes to get started. This software automatically backs up your files while you work, so you can continue working throughout the day without worrying about data loss. With mobile access, you can browse, access, download, stream, and backup all files from your mobile devices. The free mobile apps make it easy for you to watch movies and play music on the go.

All files transferred using Vogla are extremely secure throughout all stages of file transfer. Your files will be stored in high tech cloud data centers that are monitored 24 hours a day. This software is also perfect for those who prefer silent and continuous backup while they work.

If you accidentally delete a file, don't worry - Vogla keeps your deleted files for 30 days, giving you the option to restore files or entire folders from the cloud with just one easy click. You can also log in online at any time to view your files and download them. Viewing your files online is just like viewing them on your PC.

In the event that you need to revert a change you made or a file was overwritten, Vogla has you covered. This software keeps up to 30 versions of any file in the cloud, allowing you to access previous versions whenever you need them. Lastly, Vogla offers super fast transfers with no limits on your transfer speeds or bandwidth. The data centers used have super fast connectivity around the world. Vogla is the perfect backup solution for all your important files!
What's New
Version 1.6: Full support for Mac OS X El Capitan
TLS 1.2 to further improve security during transfer.
Full support for Windows 10
Full Windows 64 bit support