This software is an SDK for voice-over recording of audio files, compatible with various programming languages including C# and VB.NET versions from 2010 to 2019, VB6, and VC. Sample source code is included.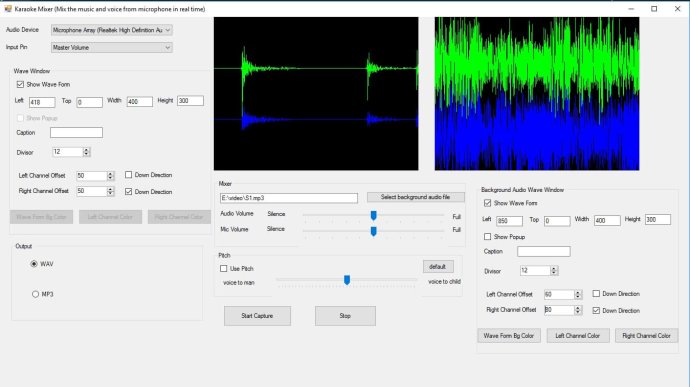 This software is an excellent tool for recording voice-overs on audio files. It comes with a feature that displays audio waveforms, making it easy to visualize and edit the recorded audio. The software also has the ability to capture audio from selected audio devices, including online streaming audio, radio, audio players, microphones, and more.

One unique feature of this software is the Customizable waveform display. You can change the background color, left/right channel's waveform color, offset, and divisor of the waveform, making it easier to work with the audio you've recorded. You can also allow for a floating popup waveform window or child style of waveform window.

Recording audio is easy with this software. It allows you to capture audio in Wave, WMA, and MP3 file formats. It also supports multiple audio devices and mixer lines, allowing you to adjust volume levels for mixer lines. You can also change the audio pitch to male, female, or child voices.

The software comes with source code for popular programming languages, including C# 2019, C# 2010, VB.NET 2019, VB.NET 2010, VB6, and VC. It is compatible with any programming language that supports ActiveX, including Access, Visual C++, Visual Basic, Visual Foxpro, Delphi, .Net, and more.

Overall, this software is a highly recommended tool for recording voice-overs and capturing audio from a variety of sources. It is easy to use, has many customizable features, and supports multiple programming languages. Best of all, the OCX file is available for royalty-free distribution.
What's New
Version 5.0: N/A
Version 4.0: N/A