Volleyball Scoreboard Pro v3 is a simple, affordable and professional scoreboard software that can turn any computer into a high quality scoreboard, engaging players and spectators alike. Get it now from www.pcscoreboards.com.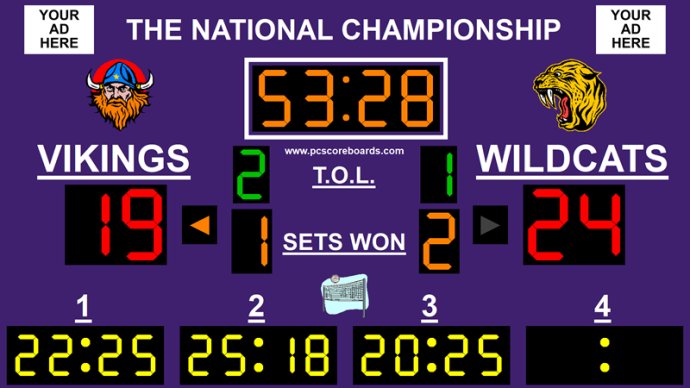 Volleyball Scoreboard Pro v3 is a software that can turn any computer into a professional volleyball scoreboard. It is cost-effective and professional, and it will surely engage your players and spectators during the game. This volleyball scoreboard software can be combined with a computer and projector/display for a complete scorekeeping solution. It is more versatile and less expensive to maintain than traditional physical scoreboards. Plus, you can use different scoreboards for sport-specific functionality while reusing the same display with the software's volleyball timer solution.

Volleyball Scoreboard Pro v3 is highly customizable, allowing you to change the team names, logos, colors, and more. The software is user-friendly, making it easy to use, and you could start scoring in minutes. It is less expensive to buy and maintain than traditional scoreboards, and it allows you to score for each sports level for each specific sport. You can reuse the same display and computer for multiple sports, making it even more cost-effective. You can download a free copy of Volleyball Scoreboard Pro v3 to try it out before you buy it.

The software's features include a game clock, timeouts, scores, team names, team logos, sets won, TOL, serving indicators, previous set scores, additional pictures, the event/venue title or picture, and a video player. You can even play your own videos on the scoreboard during breaks in the game with the software's video player feature. You can display your sponsor advertisements, player intros, half-time clips, and more.

The software's Control Screen is an intuitive operator console for controlling the scoreboard. It includes 1-touch buttons and number entry fields for quick, easy, and error-free control of the scoreboard. This screen is a separate window that only the scoreboard operator can see, so spectators do not see mouse or keyboard input.

The software also has a Web Remote Data Output, Score Banner Correction Screen, and various options, which you can see at www.pcscoreboards.com. Overall, Volleyball Scoreboard Pro v3 is an excellent solution for making any computer into a professional volleyball scoreboard.
What's New
Version 3.0.1: Improved compatibility with non-English versions of Windows.