PC Scoreboards offers customizable computer-based scoreboards for a range of sports at a fraction of the cost. These software products allow users to enter team names, logos, and colors, while also providing sport-specific scoring for each level.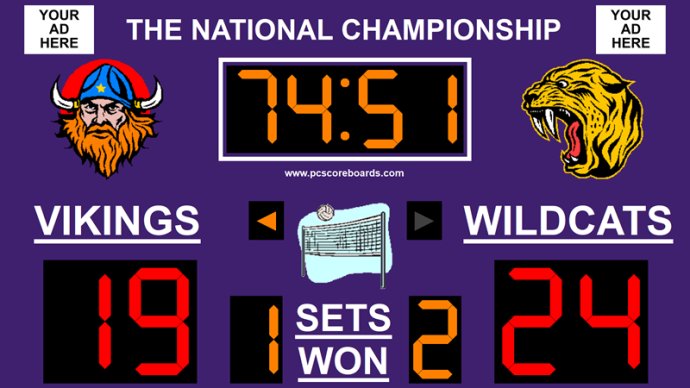 Volleyball Scoreboard Standard v3 is an amazing software that can convert any computer into a volleyball scoreboard! It is a user-friendly, cost-effective, and professional scoreboard that is perfect for keeping your players and spectators engaged in the game. To get a complete scorekeeping solution, combine our volleyball scoreboard software with your computer and projector or display.

Physical scoreboards are more expensive to maintain and less flexible than PC Scoreboards. Hence, with our volleyball timer solution, you can use different scoreboards with sport-specific functionality while reusing the same display. Download and try a free copy of Volleyball Scoreboard Standard v3 today and enjoy its stunning features without paying a dime.

Our software is highly customizable, allowing you to change team names, logos, colors, and more to get a personalized scoreboard. Moreover, it's easy to use, and you'll be scoring in minutes without any hassle. It is a worthwhile investment since it is inexpensive to purchase and maintain than traditional scoreboards. Additionally, it caters to scoring for each sport and level.

With our software, you can reuse your display and PC for multiple sports, which is highly cost-effective. Volleyball Scoreboard Standard v3 comes with a range of features, including Game clock, Timeouts, Scores, Team names, Team logos, Sets won, TOL, Serving indicators, Additional pictures, Event/venue title or picture, and Video player.

The Control Screen is an intuitive operator console that offers error-free control of the scoreboard. It includes one-touch buttons and number entry fields for quick and easy control. Spectators cannot see the mouse or keyboard input since the screen is a separate window that only the scoreboard operator can see.

Volleyball Scoreboard Standard v3 also comes with a video player that allows you to play your videos on demand on the scoreboard. This feature is optional and perfect for displaying sponsor advertisements, player intros, and half-time clips.

The optional web remote feature enables you to control all information on the scoreboard. You can access the scoreboard from anywhere with an internet connection, making it incredibly convenient.

In conclusion, Volleyball Scoreboard Standard v3 is an excellent software that provides users with a comprehensive scoreboard experience that is highly customizable, user-friendly, cost-effective, and versatile. For additional information, check out www.pcscoreboards.com.
What's New
Version 3.0.0: Completely new version release with updated and new features.
New Features include
* New Control Screen
* Top Left / Right Pictures
* Score Banner
* Web Remote
* Versatile Video Player
* Data Output
* Position Screens Using Coordinates