Get top-notch vocal and instrument sound enhancements with this software. Featuring advanced features and tunings, this tool delivers excellent sound quality, and is designed for easy-to-use performance.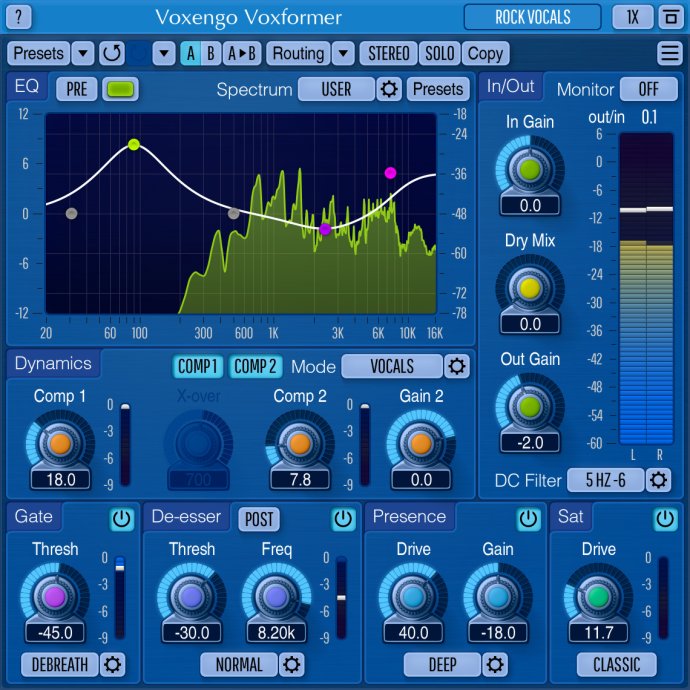 I recently tried Voxformer and was impressed by its impressive range of vocal processing modules. This all-inclusive AAX, AudioUnit, and VST plugin offers a complete solution for spoken or sung vocals, making it an ideal solution for professional audio applications.

One feature that particularly stood out to me was the one-knob vocal compressor. This unique innovation enables users to achieve a tight, open, and professional vocal sound with exceptional articulation instantly. With the advanced compression algorithm that automatically selects common ratio and make-up gain controls, as well as the attack and release parameters stored in a mode preset, users can be sure of fantastic results. Voxformer also features two compressors with the option of either a two-band or two-stage (serial) vocal compression.

Voxformer also boasts a de-esser with a selectable center frequency and threshold that delivers excellent sonic results while being easy to tune. An equally impressive module is the multi-band noise gate that is perfectly designed to provide smooth and effective results. Additionally, there is a special module for those who want to add some saturated vocal sound. This module applies smooth saturation to the vocals, resulting in an outstanding audio quality. Not forgetting the presence-boosting module, which is a great way to add some shine and space to vocals with ease.

Finally, Voxformer offers a flexible and easy-to-use 5-band parametric equalizer (pre/post selectable) with a real-time output stage fast Fourier transform (FFT) spectrum analyzer display. This plugin is also versatile enough to process a wide range of instruments, not just vocals.

Overall, Voxformer is an excellent choice for those who are serious about taking their vocal processing to the next level in any professional audio application. It's a reliable and useful tool that delivers outstanding results, and I highly recommend it.
What's New
Version 2.22: N/A
Version 2.21: N/A