Stay on schedule with Google Calendar's free program, featuring offline access and Windows desktop integration. Enjoy automated reminders and a transparent view of your daily schedule.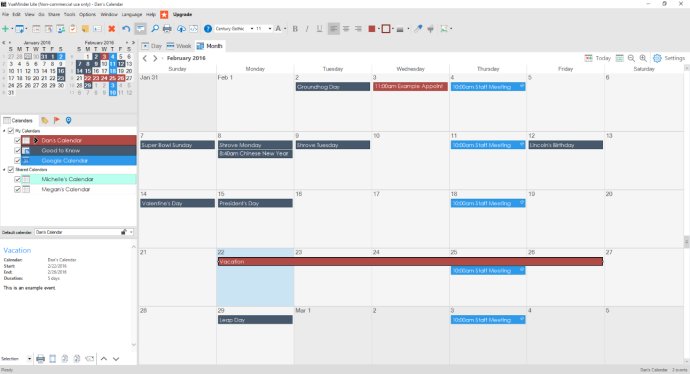 VueMinder Lite is a free software that boasts an array of features for those in need of a reliable calendar and reminder program. If you're looking for a great offline companion for Google Calendar, look no further than VueMinder. The program supports automatic synchronization with Google Calendar, and can display your schedule whether you're connected to the internet or not. Plus, all of your data is automatically backed up, giving you peace of mind against potential data loss.

One of VueMinder's most useful features is the calendar browser, which allows you to add and overlay many different calendars, including holidays, local weather, sports schedules, religious occasions, and more. You can even create your own calendars that can be displayed in day, week, and month views. Events can be filtered and color-coded based on a variety of criteria such as the associated calendar, category, priority, or location. Calendars can also be printed using a wide variety of templates and settings.

VueMinder also includes robust support for ICS calendar subscriptions, as well as the ability to import and export ICS files. Calendars can be saved as web pages (HTML) for publishing on your website or sharing with others. Files can be linked to events and opened with just a couple of clicks of the mouse. Print features are also included, with numerous layout styles and a preview window that dynamically updates to show exactly what will be printed.

The true strength of VueMinder lies in its reminder capabilities. Reminders can take the form of popup windows or desktop alerts that don't interfere with your work. Reminders can be configured to play media files or even recite text-to-speech descriptions, which makes it ideal for individuals who want to be reminded of important events even when they're in another room. Additionally, if you're familiar with Microsoft Outlook, VueMinder will feel instantly familiar.

Overall, VueMinder Lite is a great calendar and reminder program that provides a lot of value for absolutely no cost. It's intuitive, packed with useful features, and easy to learn. If you're looking for a reliable alternative to Google Calendar or Microsoft Outlook, VueMinder is definitely worth checking out.
What's New
Version 2023.01: - Added an option to sync event descriptions with Google Calendar as either plain text or formatted text.
- Corrected various Google Calendar syncing and authentication issues.
- Updated language translations.
- Other minor improvements and corrections.
Version 2022.01: -Improved syncing with Google Calendar to support formatted text in event descriptions.
- Corrected the Duration field on the Event Editor. When using some languages, such as Japanese, values could not be selected and input focus would get stuck.
- Updated the German translation.