This software helps users manage their schedule with reminders on their screen, email, or SMS. Google Calendar can be synced and schedules can be shared over a local network. A transparent desktop calendar shows upcoming events.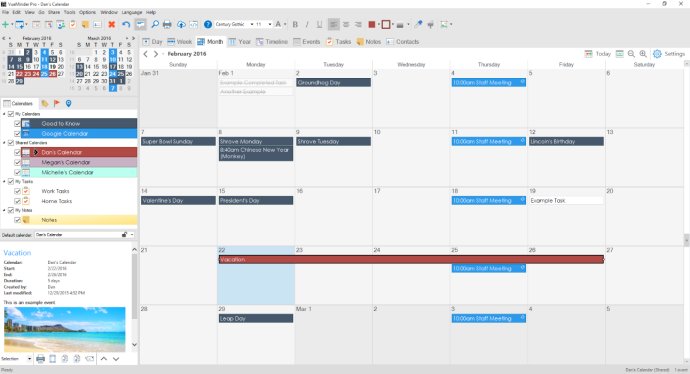 VueMinder Pro is an incredible Windows calendar program that offers numerous benefits for organizing your busy schedule. The software provides robust features, and it allows the user to handle events, tasks, notes, and contacts effectively.

VueMinder Pro comes with an array of customizable calendar views, including Day, Week, Month, Year, List, and Timeline. The data is color-coded based on the category, making it easier to identify specific events. Additionally, the software provides an option to integrate a semi-transparent calendar with the Windows desktop, allowing for quick and convenient access to your schedule.

One of the most significant benefits of using VueMinder Pro is the ability to share data securely with other computers over a local network. The software also lets you print your schedule using a variety of template styles and export it to use elsewhere. By default, data entered in VueMinder will be stored locally and will be completely private. The software also provides the ability to sync data with Google Calendar, Microsoft 356, Outlook, and iCalendar (ics) files or URLs. This feature enables the user to keep their Windows calendar in sync across multiple devices, including mobile devices.

VueMinder Pro offers a range of reminder options for events and tasks. The user can schedule reminders to pop up on their screen, to be sent via email, SMS, or phone. Popup reminders can also be customized and include summaries, formatted descriptions, music, web pages, and more.

The software provides many other useful features, such as word-wrapping of event and task titles, background images for dates, automatic backups, and establishing and viewing links between data items.

In conclusion, VueMinder Pro is an excellent software with a plethora of features that make organizing your schedule easy and convenient. The software offers multiple views to display the data, reminders for tasks and events, and the ability to sync data across multiple devices. It's a must-have for anyone who wants to be on top of their schedule.
What's New
Version 2023.01: - Added an option to sync event descriptions with Google Calendar as either plain text or formatted text.
- Corrected various Google Calendar syncing and authentication issues.
- Corrected sending task reminders when using Google Mail.
- Other minor improvements and corrections.
Version 2022.01: - Added the ability to import contacts from vCard (.vcf) files.
- Improved syncing with Google Calendar to support formatted text in event descriptions.
- Corrected syncing with Google Contacts. Contacts that were added or imported in VueMinder were not uploading to Google Contacts.