This software enables easy investigation of web pages and images viewed by someone. It provides a brief display of the web page's title, date and time of view, and image thumbnails. Additionally, it has a cache folder search feature for added convenience.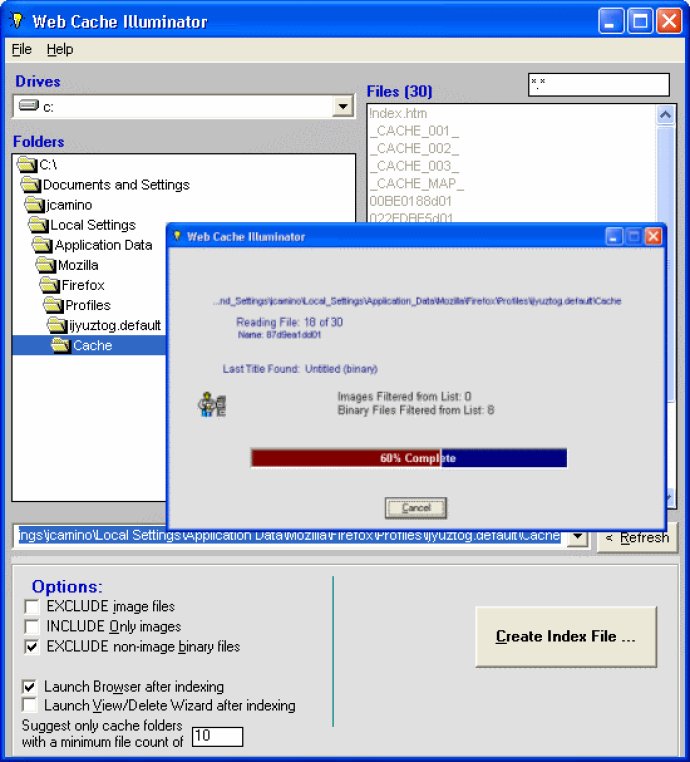 I recently had the pleasure of using the Web Cache Illuminator software and was highly impressed with its capabilities. As a tool designed to help investigate web pages and images viewed by someone, it certainly packs a punch. The program presents information in a clear and concise manner, displaying the web page title, date and time it was viewed, and all images viewed, complete with handy thumbnails.

The ability to search for cache folders on your computer is an added convenience, saving you time and energy. By displaying everything in a browser interface, it's easy to click on any titles or images to view them in more detail. This feature alone makes it easy to understand what any of the pages look like, no matter how much investigative work has to be carried out.

I also found the filter function highly useful when dealing with images and binary files. It is a helpful tool that streamlines the investigative process.

By making use of cached files, Web Cache Illuminator offers an innovative solution to a common problem. People often try to cover their tracks by deleting their browser history. But, they often forget, or don't know-how, to delete cached files. With the Web Cache Illuminator, you can view cached files and gain valuable insights into their contents - enhancing the whole investigative process.

One of the biggest benefits of using the Web Cache Illuminator is its ability to offer information far beyond what a simple web browser or file explorer can provide. Without this tool, you might only access file names and sizes, which isn't very informative. However, this program delves much deeper to display a wealth of information in a neat and succinct format.

In summary, if you're looking for a robust software to help with investigative work related to someone's online activity, then the Web Cache Illuminator deserves a serious look. It boasts a comprehensive range of features and presents all data in a clear and concise format. It's easy to discover all of the web pages and images that have been viewed, empowering you to uncover the truth.
What's New
Version 5.4.1.000: Updated graphics to enhance the presentation.