This software allows users to gather an abundance of business information for any location worldwide, based on a chosen profession. Users can also create customized Email Marketing Lists themselves by scraping popular websites like Yellow Pages and Yelp.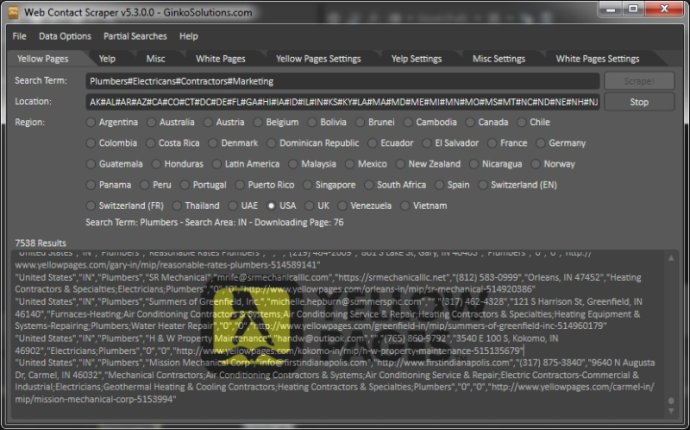 Web Contact Scraper is a powerful software application designed to automatically gather business contact information. With its advanced search functionalities, the software lets you find and collect thousands of targeted business details in any location worldwide. Whether you need to build an email marketing list, a phone book, or a mailing list, Web Contact Scraper makes it easy to get started.

With this software, you can instantly retrieve business data such as emails, phone numbers, websites, and addresses, and then export them to CSV. The possibilities are endless, whether you need to find 1000 plumbers in New York or 10,000 dance instructors in Australia.

Web Contact Scraper offers a range of features that make it easy to search and gather business information. You can search for multiple business keywords at once, and search within multiple cities, states, and countries. The search results appear in real-time, giving you the ability to monitor the progress of your search.

Additionally, the software supports a range of business directories, including Yellow Pages, Yelp, 411, Kompass, and Yell, among others. You can use this software to find businesses in Argentina, Australia, Austria, Belgium, Bolivia, Brazil, and many other countries.

Other features of Web Contact Scraper include the ability to pause and resume searches, the ability to resume multiple past partial searches, and intelligent proxy IP support for anonymous scraping.

With a lifetime license key for up to two computers, and one full year of free product updates, Web Contact Scraper offers a robust solution for businesses looking to gather targeted business contact information. Additionally, the software has excellent customer support services to help you with any issues you may encounter.
What's New
Version 5.9.3: NEW - Added support for Malta (yellow.com.mt)
FIX - Formatting changed for: Australia, Germany, Switzerland, USA (Yellow Pages)

See website for more updates for this release