This webcam simulation software broadcasts video files as a virtual camera without needing an actual webcam. It enables users to use video chat on messenger platforms such as MSN, Yahoo, AOL, ICQ, and Camfrog.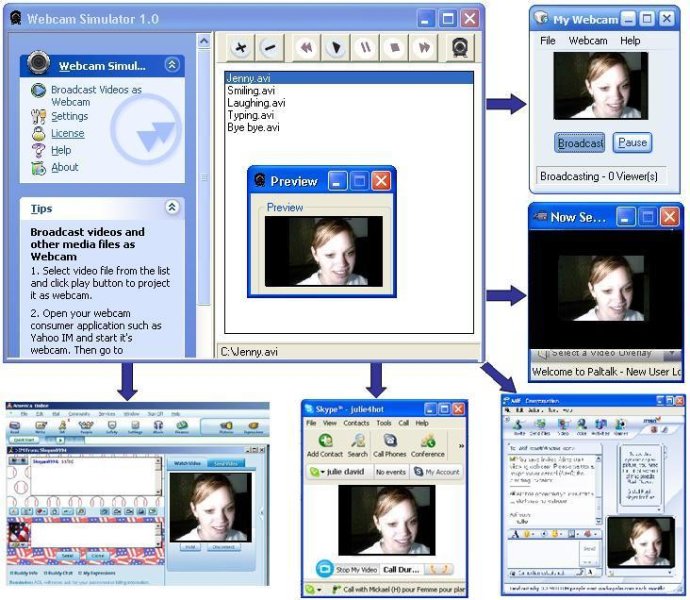 If you find yourself in a situation where you need to communicate via webcam but don't actually have one, don't panic! With the webcam simulator software, you can produce a virtual webcam in your system that operates through video files.

What's great about this software is that it installs swiftly and seamlessly. You won't have to worry about hardware malfunctions or incompatibility issues. Once it's installed, you'll be able to use a virtual camera on most instant messenger services like MSN, Yahoo, AOL, ICQ and Camfrog Video Chat.

So how does this simulator work exactly? Well, it functions by broadcasting video files as if they were coming through a webcam. This means you can choose any pre-existing video file on your system and transmit it like a live stream through your virtual camera.

Overall, the webcam simulator is a reliable software option for anyone seeking to communicate over webcam without having an actual one. With its easy installation and seamless integration with most instant messengers, it's a must-have tool for remote team communication, online classes, and virtual meetings.
What's New
Version 7.999: Installer update
Version 7.996: Installer update
Version 7.993: Installer update
Version 7.990: Installer update
Version 7.986: Installer update
Version 7.980: Installer update
Version 7.977: Installer update
Version 7.974: Installer update
Version 7.965: Installer update
Version 7.956: Installer update