This software offers 3 functionalities in 1: web collector, HTML editor, and ebook builder. It allows users to save, organize, and edit webpages or ebook files, and create their own content. Easy file and book management is offered in one place. Supported files include EPUB2/EPUB3/KOEPUB/PDF/MOBI/AZW3.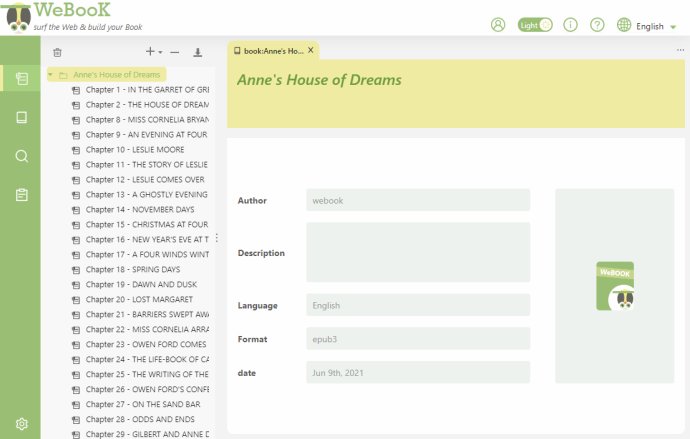 If you're looking for a powerful software that can handle all your eBook needs, WeBooK is the program for you. This 3-in-1 software is ideal for managing your files, editing HTML, and building eBooks all in one place.

With WeBooK, you can safely store all your materials in a single program, regardless of the file format. You can easily open and edit EPUB2/EPUB3/KOEPUB/PDF/MOBI/AZW3 files, and convert them into a new eBook format of your choice.

The program also allows you to import your local files or books into HTML pages, which are easy to edit and reconstruct. With WeBooK, you can output them into your target format with ease.

WeBooK even lets you save unlimited webpages from various websites, including those with dynamic and login-required pages. You can preview the pages before submitting them to WeBooK desktop to save them.

You can save your bookmarked webpages without having to open them one by one. WeBooK fetches your bookmarked pages and displays them in a box for easy selection.

All your pages, whether from the web or your local directory, can be categorized in different folders. You can move items to any folder or attached item, making it easy to manage all your content in one place.

WeBooK also works as a file converter, allowing you to convert files and books into EPUB2/EPUB3/KOEPUB/PDF/MOBI/AZW3 format. If you want to split and recreate some files, WeBooK is the perfect choice.

Overall, WeBooK is a comprehensive solution for managing and creating all your eBooks, making it an essential tool for writers, publishers, and book lovers alike.
What's New
Version 1.0.0: Organize webpages and local files
save webpages across websites
save book,arked pages
edit webpages and create new page