Pop-Up Washer effectively blocks various forms of aggressive pop-ups, giving users total control over which pop-up windows they want to see, thus improving their internet experience.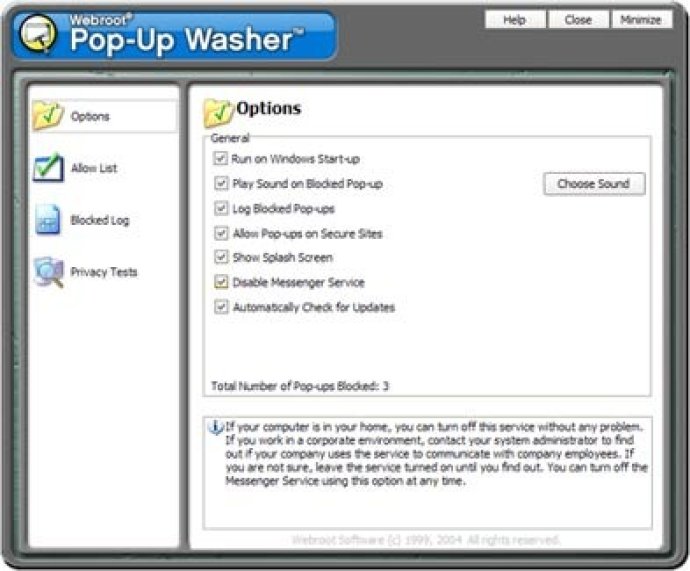 If you're someone who's constantly annoyed by pop-up ads while browsing online, then it's about time you tried Pop-Up Washer. It's a pop-up blocker that's specifically designed to stop all kinds of annoying ads that other blockers can't seem to eradicate, such as mouse-over, delayed, and mass attack pop-ups.

Pop-Up Washer sets itself apart from other blockers by still allowing user-initiated and navigational pop-ups, ensuring that you don't miss out on any important site features or navigation links.

Pop-up ads can be incredibly frustrating and incredibly common. However, Pop-Up Washer helps solve this problem by stopping them at the Internet Explorer engine before they even show up on your screen. It prevents the screen flickers that occur with other blockers, which is a big help in creating a smoother browsing experience.

With one-click activation, you have the option to log all blocked pop-ups, meaning you can keep an eye on just how many ads the program is stopping. Additionally, you can customize the sound effect that plays when Pop-Up Washer blocks an ad.

Installing Pop-Up Washer is quick and easy, and it operates without getting in the way of your system resources or slowing down your browsing speed. It offers easy-to-use features that will go a long way in improving your online experience. If you're looking for a reliable pop-up blocker that can help you browse without any annoying interruptions, then Pop-Up Washer is definitely worth a try.
What's New
Version 2.5: Effectively blocks delayed, mouse-over, and other aggressive pop-up ads; transparently blocks pop-ups without visible screen blinks; automatically identifies and allows user-initiated and navigational pop-up windows.