Webserver Monitor is a user-friendly software that enables real-time analysis and monitoring of logfile on Windows and Linux webservers.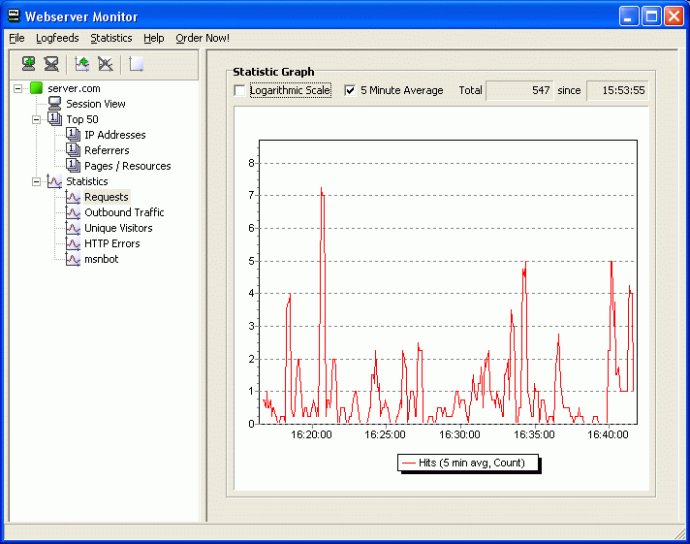 Webserver Monitor is a powerful software that allows you to monitor and analyze the logfiles of your Windows and Linux webservers in real-time. With this software, you can detect and analyze problems as they occur, allowing you to find solutions before they become serious issues.

This software provides you with detailed status information about your webserver, analyzing the logfiles in real-time, without any need to alter your existing website's code or add any additional tags. With Webserver Monitor, you get a detailed real-time insight into what's happening on your website.

You can quickly see if your server is available and fully functional with just one glance, and you'll be alerted to any potential problems before your visitors even notice. You can also keep track of your visitors and see how they move around your website, allowing you to observe the impact of changes to your configuration or content in real-time.

Webserver Monitor also allows you to see how many unique visitors are currently browsing your website, or how many visitors are accessing a specific resource on your website right now. The software also creates charts of the network traffic generated by visitors browsing your website in the last few minutes and lets you see how often a resource was downloaded from your website.

Customizable counters and charts are also available, allowing you to track events and scenarios of interest to you. The software provides many pre-defined tables and statistics charts, but you can also add your own statistics and charts to track the usage of specific resources easily.

Setting up is simple and straightforward; first, install a Logfeeder agent on each webserver you want to monitor, then install Webserver Monitor, configure it to connect to the Logfeeder agents and you're good to go. Overall, Webserver Monitor is an excellent software product that offers significant benefits to website owners and admins.
What's New
Version 1.2.1.3: New release