This software is an efficient web email extractor tool that finds unique and valid email addresses from a large number of online websites. It is one of the finest email crawler tools that can extract email addresses from websites in a hassle-free manner.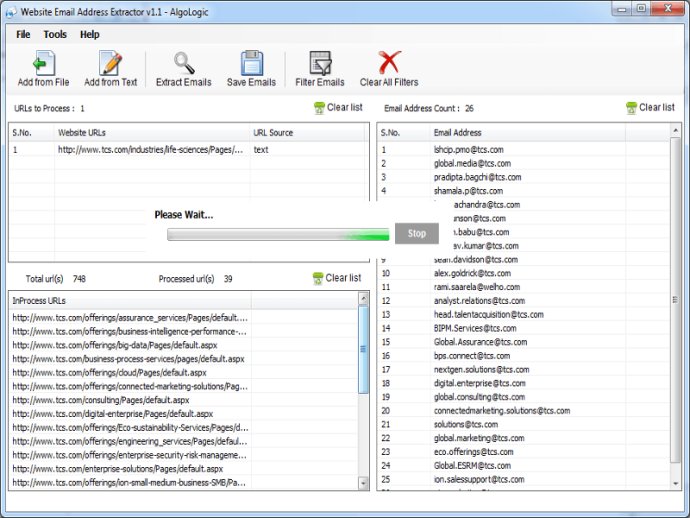 If you're in need of a powerful and fast email address extraction tool, look no further than Website Email Address Extractor. This software is specifically designed to find email addresses quickly by extracting them from websites and inner web-links up to a defined nth level recursively. You can even set website crawl level in settings to ensure the tool meets your specific requirements.

Website Email Extractor v1.4 filter option is an excellent feature of the website email harvester tool. It enables you to extract only valid email address from the internet as well as from SSL/TLS secured websites. This software is the ultimate email collector utility for those seeking to extract email address from the internet for email marketing purposes.

Not only will Website Email Address Extractor give you the fastest results, but it's also super user-friendly thanks to its implemented fastest website pages crawling and email addresses searching algorithm. This software even allows you to automatically save extracted email addresses to your desired file location during the extraction process. Extracted email address can be saved in excel, csv, and txt files.

What sets Website Email Address Extractor apart is that it lets you add links and keywords to skip from processing faster. Additionally, users can add multiple websites to the search list for extracting email addresses effectively. The Website Email Spider offers various filter options, so you only get the email addresses you need.

Overall, Website Email Address Extractor is the best email extractor software for online marketing available. It's reasonably priced and provides excellent value for your time and effort. We highly recommend this software and suggest you take advantage of its free trial today.
What's New
Version 1.4: Extract website email addresses online and save in excel and csv file formats.