Weemple Video Tools is a user-friendly desktop application that enables users to rename video files in accordance with their media player's naming convention. Additionally, it serves as a practical video metadata scanner that detects various media file formats with ease.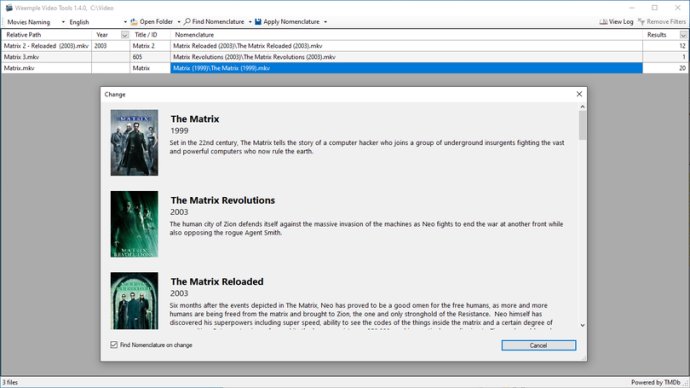 As a software tool, Weemple Video Tools provides an easy and seamless desktop application to rename video files based on the naming conventions of your preferred media player solution. Additionally, this software includes a video metadata scanner that can detect the format of different media files with ease.

One of the standout features of Weemple Video Tools is the real-time Log Viewer which allows users to track their naming conversion activity as it occurs. The software promises not to modify the content of your files, making it a safe and reliable tool for your video management needs.

The software is divided into three key modules: Movies Naming, TV Shows Naming, and Metadata Scanner. Weemple Video Tools is also equipped with a Metadata Provider that boasts the support of all languages available on TMDb.

The Media Player Format is another impressive feature of Weemple Video Tools. The software is compatible with several media players including Synology, Plex, Kodi, and Emby.

Weemple Video Tools also offers a range of options to customize your video file management experience. This includes the ability to inspect the metadata inside files, create folders and subfolders, include audio language codes in your folder names, exclude initial article on the folder names, and even inspect subtitles to rename them accordingly (.srt, .sub & .idx).

Overall, Weemple Video Tools is an all-in-one solution for those looking for a reliable and powerful video management software tool.
What's New
Version 1.6.0: Improvements and bug fixes.
Version 1.5.0: Improvements and bug fixes.
Version 1.4.1: Improvements and bug fixes.
Version 1.2.0: Improvements and bug fixes.