The Windows-based Weighbridge Software is designed to work with all kinds of weighbridge indicators with easy one-click installation. It allows seamless communication with RS232 and read weigh data. The software can be customized as per customer requirements on site and has pre-printed ticket settings. User-friendly and efficient!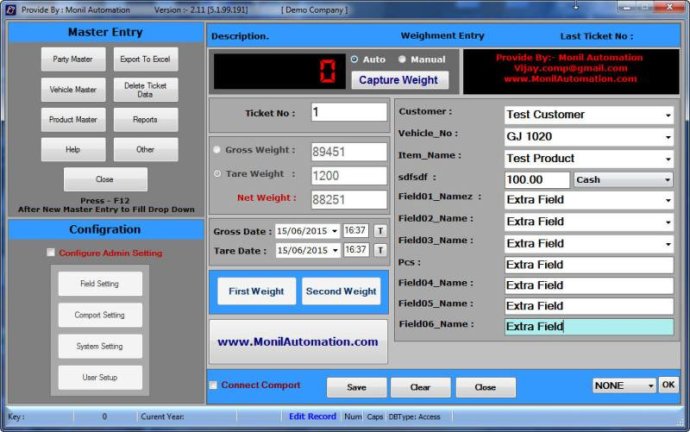 This software has a full feature list that includes several customizable options to meet the specific requirements of each client. One of the key features is the ability to manually enter weight data, which can be set as a system setting. Additionally, there are up to twelve fields available for customization, with the option to set certain fields as mandatory from the field setting.

Users can activate the manual tare weight feature with the F8 key if the facility is activated. There is also a facility for automatically sending SMS and email messages containing daily ticket data, and the option to send SMS messages directly to customers if required.

Security is a top priority with this software, as it allows for user authentication for ticket edit, re-print, and delete functions. Users are also able to modify their own passwords, and there is support for multiple users and shifts. The software makes it possible to set individual reports access rights and track any modifications made by operators with the data auditing feature.

Connectivity is another significant feature, with the option to connect to SAP, ERP, and Oracle based on the client's requirements. The software is designed to support both client server and network applications, with daily data export options available in Excel, CSV, and text file formats.

Other notable features include the ability to connect and disconnect the indicator, support for multiple COM-Ports with different indicators, and a facility for automatic backups of the database for multiple users in LAN. Users can also work simultaneously on different brands of indicators within a network.

The software supports multiple databases, including SQL SERVER 2005 Express MS Access and Oracle. Slip re-printing, editing, and deleting are possible with user access, and there is a direct net weight feature for single-entry system slip entry. The software includes a feature for comparing existing vehicle tare weight with new weight, with options to modify slip entry dates.

Batch weighing is possible, with the option to take batch tare gross weight for a single truck and use the wear house. The software also includes drop-down menus for party, vehicle, and product masters. Finally, the software has CCTV integration to capture live vehicle positions and photos, with the option to print tickets with vehicle photos. There is also a facility for automatic vehicle tare weight selection.
What's New
Version 5.1.99.191: opening Comport setting and add reporting service