WholeClear NSF Converter enables hassle-free conversion of NSF files from Lotus Notes to various file formats and cloud-based applications, including PST, MBOX, PDF, Gmail, Yahoo, Hotmail, and Office 365. It can handle large NSF files without requiring Domino Server.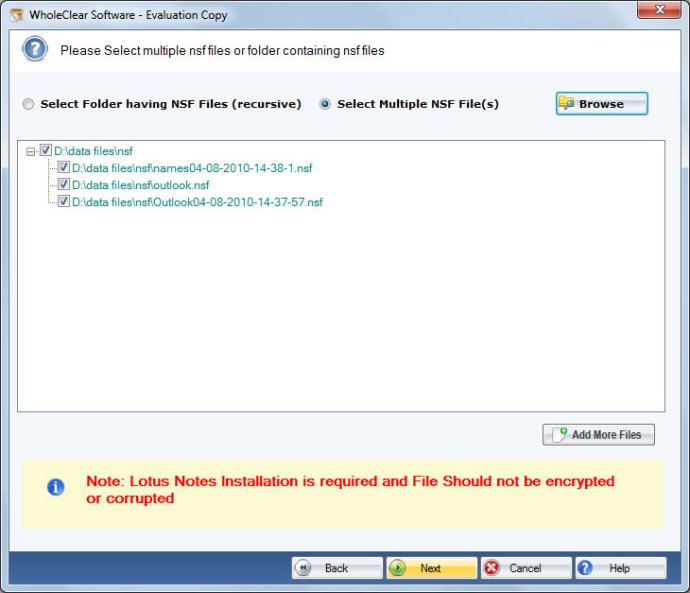 WholeClear NSF Converter is a highly efficient software that allows for the smooth and effortless conversion of Lotus Notes databases into various file formats, including emails, contacts, notes, calendars, journals, and more. The Lotus Notes conversion tool offers users the ability to convert NSF files to multiple file formats, such as PST, MBOX, PDF, Gmail, Yahoo, G Suite, Office 365, Hotmail, Outlook.com, and others with smooth and error-free conversion results.

With the ability to choose any file format for exporting data, users can migrate NSF files to cloud accounts with valid login data required to connect to the desired account. There is no need for Domino Server connectivity to complete the conversion process. However, Lotus Notes must be installed on the system to convert all versions of Lotus Notes NSF files.

The straightforward conversion process uses just a few simple steps, allowing for easy management no matter what the size of the Lotus Notes NSF file. The software easily converts any extremely large NSF file to the desired file format with no loss of data or damaged files. The folder hierarchy and email formatting, including fields such as to, cc, bcc, date, time, from, subject, hyperlinks, signatures, images, etc., are fully maintained throughout the conversion process.

Once the conversion is complete, users can easily save the resultant file to any location on their system. It can then be opened effortlessly on Outlook, Thunderbird, Windows Live Mail, Apple Mail, and others. WholeClear NSF Converter is compatible with all versions of the Windows operating system, including Windows 10, 8, 7, Vista, and XP. The software supports all versions of Microsoft Outlook, including Outlook 2019, 2016, 2013, 2010, 2007, 2003, and others.

To evaluate the software before purchasing a license, users can download the free version of the software and convert the first 25 items from a Lotus Notes NSF file to their desired format. Unlimited database conversions are available with an upgrade to the licensed edition. Additionally, 24*7 customer support is available to answer any queries that users may have. Overall, WholeClear NSF Converter provides a simplified and streamlined way to manage and convert Lotus Notes databases to the desired format.
What's New
Version 2.0: N