TheOneSpy is a powerful windows monitoring and spying app designed for concerned parents and employers. It helps to track dishonest employee's activities and monitor kid's computer usage. The app offers comprehensive features like voice, data, and location tracking.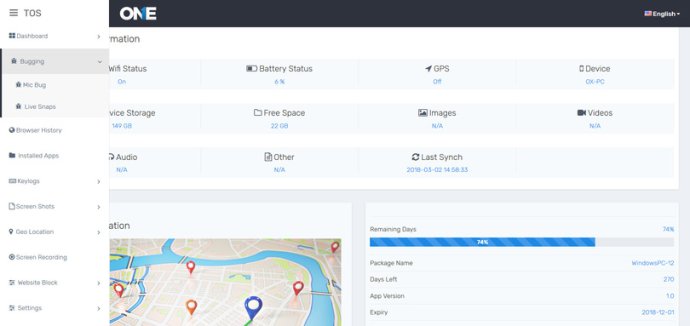 The Windows spy app is a reliable tool for both businesses and parents alike. It allows you to restrict access to any website on your employees' Windows machines simply by entering the URLs into filters. This ensures that nobody can access the websites that you've blocked.

For parents, it's an excellent tool for applying parental control to Windows laptops. You can monitor your children's browsing history and see what websites they have visited on their Windows devices. The app even enables you to access all the keystrokes entered on the device using its keylogger feature. Just log in to the control panel, and you'll have access to all the keystrokes entered on the device.

The Windows spy app also enables you to fully examine any Windows machine. You can view all the apps installed by accessing the online dashboard and selecting the "installed apps" option. This will provide you with a comprehensive list of all the apps installed on the Windows desktop.

The app also allows you to easily capture screenshots remotely of all the activities happening on the Windows screen using the Windows screenshot feature. Additionally, you can get timely and user-friendly reports about the activities occurring on the Windows laptop device.

Furthermore, you can use mighty alarms to keep track of frequently occurring activities on the computer Windows machine. With Windows spy app's invisible mode of tracking, you can get real-time monitoring experience to the fullest. You will get to know the activities happening in real-time with the complete time schedule. Overall, the Windows spy app is a trustworthy software tool for both businesses and parents looking to keep an eye on their employees and children's activities on their Windows devices.
What's New
Version 1.0: No Change