This software can recover lost or deleted files and folders from formatted, erased, corrupted, or crashed hard drive partitions on Windows operating system. It supports FAT and NTFS file systems and offers unerase, undelete, and unfomrat tools. It's available for download.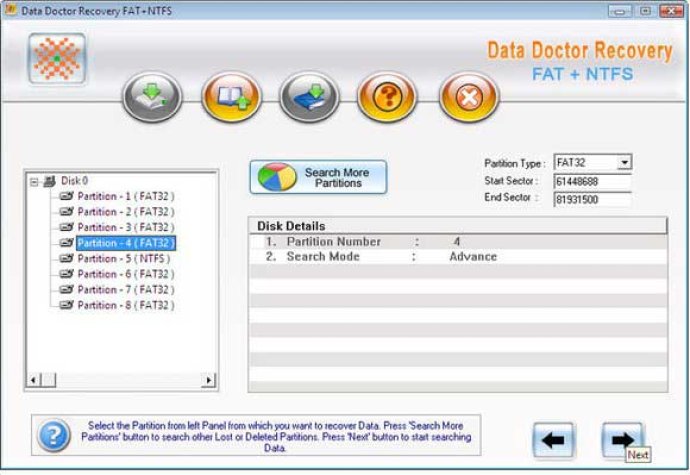 If you're in need of a reliable data recovery software tool for FAT NTFS, then look no further! Our software provides a quick solution to recover your lost files and folders due to overwritten, deleted, formatted, damaged or corrupted partitions from both FAT and NTFS based operating systems, such as Windows 95, 98, ME, NT, 2000, XP and 2003.

Additionally, our software is versatile enough to recover data from other storage media, such as Pen drives, Floppy disks, Memory Cards, Flash memories, Zip drives, iPods, digital cameras, and mobile communicators memory cards. The recovery process is easy to use, with an extremely attractive Graphical user interface (GUI) and helpful software utility tools for restoring lost or deleted partitions, files, and folders.

In terms of features, we offer a read-only and non-destructive data recovery process that supports all storage media - including up to 128 media storage at a time, for hard disks and other storage devices, such as all IDE, SATA, EIDE and SCSI disks. We also support FAT, VFAT, FAT12, FAT16, FAT32, NTFS, and NTFS5 file systems, with the ability to recover long file names, and folders with best graphical user interface (GUI) for easy and quick data recovery.

Our software also provides in-built step-by-step data recovery help for you, with the ability to recover data even in cases of previously existing partitions, bad sector affected storage media and deleted files and folders, even after the use of the (Shift+Del) key or emptied recycle bin, or loss of formatted logical drives, missing or lost files, and folders.

Overall, our data recovery software tool for Windows FAT NTFS partition recovery is an excellent choice for those seeking a reliable and easy-to-use data recovery solution.
What's New
Version 3.0.1.5: Support for more storage media such as new ipods memory cards digital camera and new hard drives