WinLicense is a software protection tool that provides advanced licensing control to developers. With its various flexible techniques, it enables safe distribution of trial versions of applications.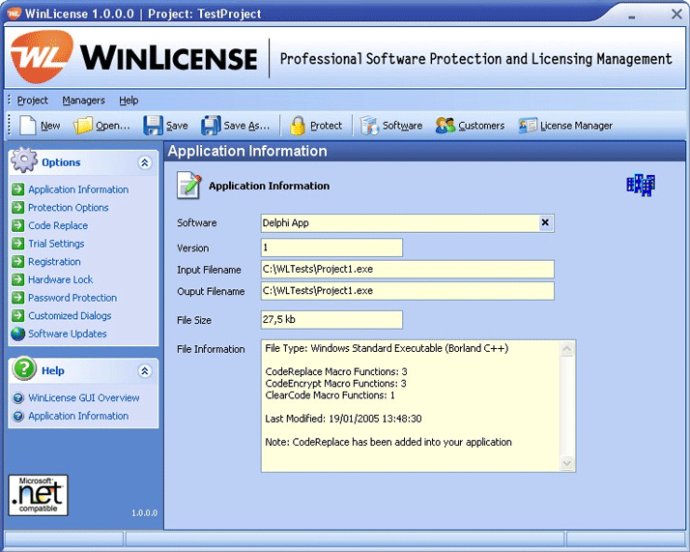 If you're a software developer looking to safeguard your application from advanced reverse-engineering and software cracking, WinLicense might be your next go-to solution. This software protection system is designed to be user-friendly, as developers don't require any source code changes or programming experience to secure their application.

WinLicense incorporates SecureEngine® protection technology to execute its code at the highest priority level, providing never before seen protection techniques. This ensures that any application protected with WinLicense is safeguarded with the highest level of security.

Some of the protection features that WinLicense offers include multilevel encryption to protect code and data, advanced detection of cracking tools, scrambling of executable code, data, and APIs, and protection against all disassemblers and debuggers. Additionally, the SDK offers two-way communication with SecureEngine® and the protected application, allowing developers to check the current trial or registered versions of their application through a complete SDK.

WinLicense offers fully customizable protection options and dialogs, making it the ideal solution to create both trial and registered versions of an application. Furthermore, WinLicense offers automatic handling of all possible situations, such as an application expiring, a license becoming corrupted, etc., which saves developers from including extra code into their applications.

In conclusion, WinLicense provides the widest range of features and options that software developers could possibly require to protect their applications. If you're a software developer looking for an efficient and effective security system, WinLicense is an excellent choice.
What's New
Version 1.960: N/A