A log analyzer software for Windows Media Services server log files that specializes in analyzing WMS log files. It supports the complete set of WMS log file data and provides in-depth analysis.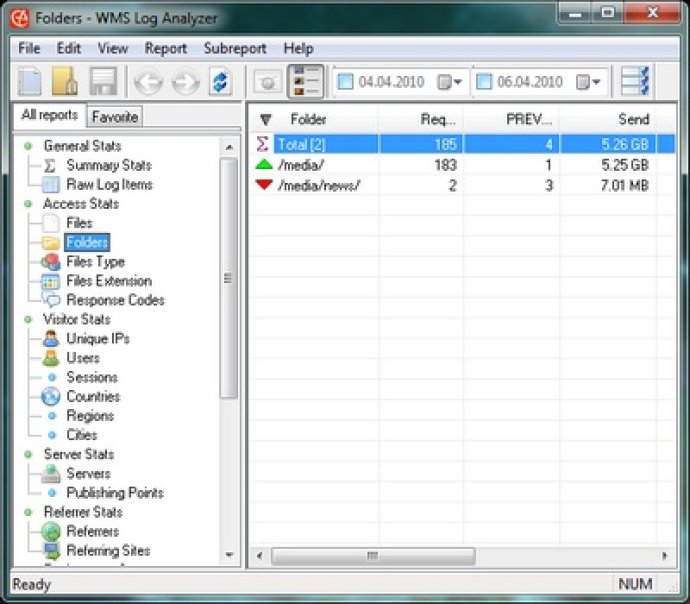 If you are looking for a visitor activity analysis software for your Microsoft Windows Media Services, look no further than WMS Log Analyzer. Unlike other analyzers, it has been designed specifically for analyzing Windows Media Services log files and supports the entire set of Windows Media Services log file data. This makes it the best and most complete analysis tool for these files.

With WMS Log Analyzer, you can generate all kinds of statistics, including loaded files, visitors, clip playing time, visitors' countries, and more. The program creates dynamic reports on-the-fly, and you can easily access subreports by right-clicking the item you need.

WMS Log Analyzer supports log files of the W3C Windows Media Services format as well as exported files in the CSV format. It can recognize log file formats automatically and can read compressed logs in 7z, rar, arj, xz, txz, z, taz, lzh, lha, lzma, bzip2, tbz, tbz, tgz, tpz, tar, jar, xpi, odt, ods, xlsx, xar, and lzma86 formats. This means you won't need to unpack them manually.

The flexible system of filters allows you to customize WMS Log Analyzer so that only the data you need is displayed in reports. The user-friendly interface ensures that you can start working with it right away, and statistical data is displayed in diagrams and tables. You can also print reports, making it easier to share data with others.
What's New
Version 6.8.1: Log Analyzer