This software allows for seamless transfer of music, video, podcasts, playlists, and audiobooks from iOS and Android devices to Mac or iTunes, and vice versa. It also offers the ability to manage contacts and apps, including the option to root Android devices with a single click.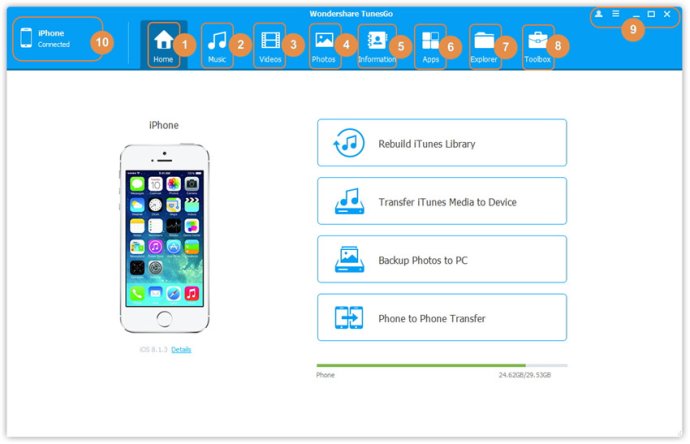 TunesGo is an essential phone management software that serves as an all-in-one solution for handling all aspects of your mobile lifestyle in a single, convenient place. With this software, you'll no longer need to rely on iTunes as your go-to resource for iOS-related features.

One of the key features of TunesGo is its ability to efficiently manage all your media content on iOS and Android devices, directly from your PC. With smart transfer capabilities, TunesGo lets you transfer all types of files between devices, including music, playlists, videos, podcasts, audiobooks, TV shows, and more. The software also comes with a de-duplicate button that can help you remove duplicate music files, thereby freeing up valuable storage space on your device.

When it comes to managing photos, TunesGo provides a superb backup solution and the ability to transfer photos between devices easily. You can export photos from your iOS or Android device to your computer, and create GIFs with Live photos and Motion photos all with a single click. Additionally, TunesGo allows you to add photos from your PC, camera, and camcorders to your mobile device's photo library.

With TunesGo's user-friendly contact manager, managing your contacts has never been easier. The software enables you to transfer contacts effortlessly between iOS and Android devices, backup your contacts to your computer, merge duplicate contacts, and customize contact info filters.

TunesGo is also a formidable message manager for both iOS and Android, allowing users to export and import messages from their devices to their computer, and send texts directly from their computer.

For those who want a streamlined app management experience, TunesGo can uninstall multiple unnecessary apps in one go and secure backups for vital apps.

TunesGo also provides users with a powerful file explorer to browse all folders and files on their devices, any important folders can be marked with one-click access for next time. Additionally, the software can root your Android device with one click, enabling you to remove ads from your Android apps, uninstall pre-installed apps, and more. Overall, TunesGo provides an unparalleled level of device management that's hard to beat.
What's New
Version 9.1.1: Fix some minor bugs