Transform your computer and display into a virtual wrestling scoreboard with our software. Download it for scorekeeping wrestling games in gyms and arenas.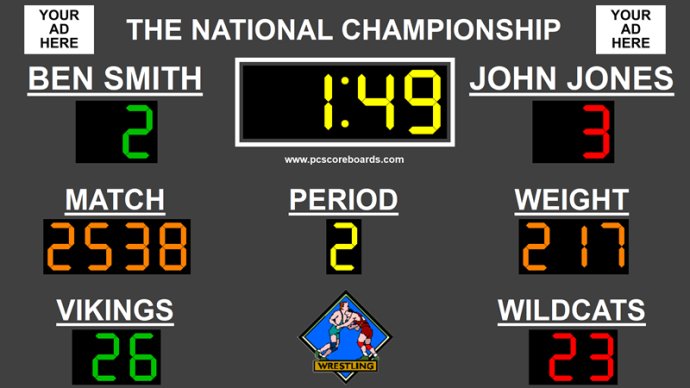 If you are a wrestling fan, and looking for an easy and effective way to keep score of your favourite wrestling games, then you should definitely check out our wrestling scoreboard software. This software is designed to run on your computer, and it allows you to turn your PC into a virtual scoreboard.

With the Wrestling Scoreboard Standard, you can easily keep score of wrestling games in gyms, arenas, or multipurpose facilities. The software features a simple to use mouse and keyboard interface, which makes it easy to control all the functions of the computer scoreboard. Additionally, this software is a cheaper and portable alternative to expensive physical scoreboards.

Using our software is very flexible as it allows you to switch between different sports using the same hardware, something that fixed scoreboards cannot match. You can even try our scoreboard download for FREE before purchasing since our Wrestling Scoreboard Standard software is shareware.

The software comes packed with amazing features, such as an easily accessible full-screen mode, optional secondary control screen, customizable scoreboard colours, high visibility LED digits, customizable team names, and a clean and simple design that allows for easy reading by spectators. It also fits most monitors by adjusting to different display resolutions. You can even move registration between computers with the portable USB key included with the software.

The Wrestling Scoreboard Standard also includes a game clock, match scores, team scores, current period, match number and weight number. The customizable keys make controlling the scoreboard quick and easy, and you can even change the buzzer and end of period sounds to use your own audio files. Additionally, the software allows you to customize every colour to match your team's colours, and it also has an optional discrete selection border around the active element of the scoreboard, showing the part of the scoreboard you are controlling.

With customizable period durations, you can set the length of each period as well as customize the style of digits used to display numbers. The software also allows you to change the scoreboard picture which may be used for advertising space. In conclusion, our Wrestling Scoreboard Standard software is a must-have for any wrestling fan as it not only simplifies the scoring process but also adds an element of excitement to any wrestling game.
What's New
Version 3.0.1: Improved compatibility with non-English versions of Windows.