X-VPN offers a user-friendly VPN service for Mac, Windows, Android, iOS, and Linux with unlimited bandwidth, robust security features, and a no-logging policy. It's a free and straightforward solution to accessing restricted content while maintaining security, making it a must-have for today's digital world.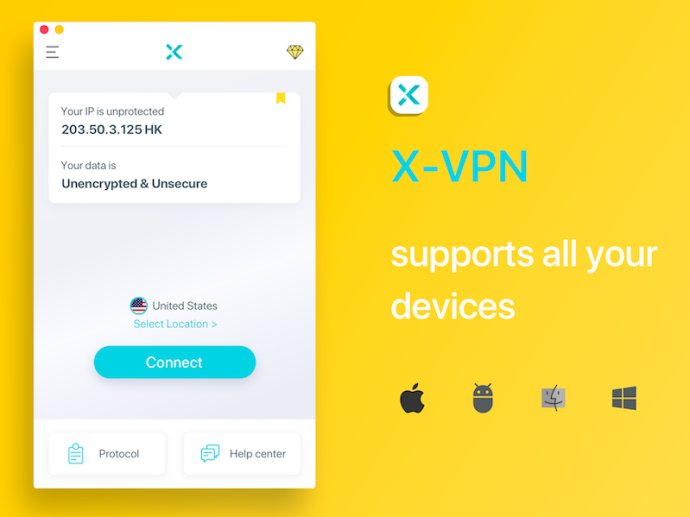 X-VPN is a fantastic software that is available on multiple platforms such as Windows, Mac, Android, and Apple mobile devices. The app is designed to provide users with a powerful VPN that enables them to connect anonymously to the internet. With X-VPN, you have the ability to hide your IP, set your virtual location anywhere in the world and unblock streaming and social networking apps and sites at your office, school or abroad.

What's more, X-VPN has unlimited bandwidth, decent security measures and claims to not retain any logs related to your online, browsing or downloading activities. The software has an AD-free experience, making it very easy to use. It also comes with no annoying pop-up ads, credit cards, registration or login requirements. You simply have to tap the Connect button, and you are protected.

X-VPN aims to help you break tracking and stealing activities, making your browsing experience free from any disturbances. You can now watch your favorite sports and TV shows seamlessly without any interruptions. It's straightforward, one-tap-on and off approach to using the software keeps things simple and accessible for users.

X-VPN is designed to give you the best user experience without any pop-up ads or annoying interruptions. The software is available for free downloads, and the user gets 500MB premium data to try their services before they commit. Once the data runs out, there is a provision to use the free servers. The free servers are equal to what is available on other VPNs.

In conclusion, if you prioritize your privacy, information security, and freedom online, then X-VPN is the right software for you. Download the software, try it today and become your online bodyguard. X-VPN is the best choice when it comes to downloading a VPN for your mobile phone or computer.
What's New
Version 17.0: - Improve the speed of servers
- Improve the starting speed
- Improve the stability on Public WiFi