This software enables users to design and print customized labels, barcodes, and QR codes. With the ability to import data from external sources and automate the process, creating and managing professional-looking labels and badges has never been easier.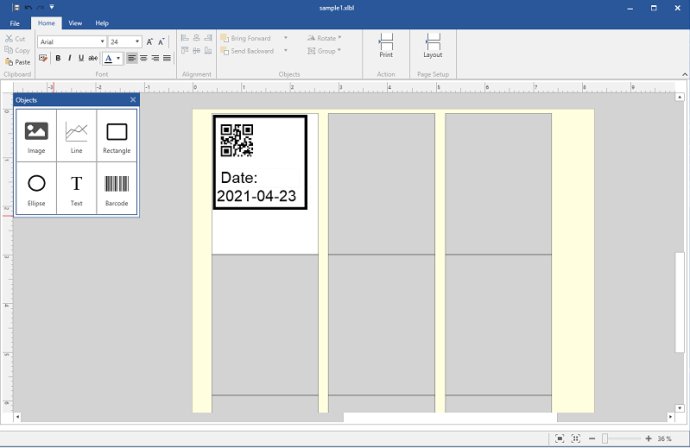 Xcel Label is an exceptional software application designed for barcode labeling that ensures professionals can create and print custom labels while importing data from external sources. This software provides the ability to generate linear and 2D barcodes, working compatibly with standard laser, inkjet, or roll printers.

Creating and printing labels is simple with Xcel Label as it provides an easy-to-use interface to design basic or professional labels. The interface is remarkably user-friendly, enabling our clients to utilize its full functionality features with just a few mouse clicks. Also, Xcel Label makes designing documents and labels easy, with its Microsoft Word-like user interface that allows quick designing without any prior knowledge of barcoding or designer training.

This barcode generator software presents the opportunity to create QR or PDF-417 2D barcodes. With Xcel Label, barcodes such as EAN-13, EAN-8, Codabar, Code 11, Code 128, Code 128 A, Code 128 B, Code 128 C, Code 39, Code 39 Extended, Code 93, Code 93 Extended, Interleaved 2of5, MSI, Postnet, UPC A, and UPC E codes can be created and printed.

Xcel Label's easy-to-use database wizard enables you to connect text, barcodes, and images to an external data source or database such as Excel, Access, Outlook, csv, txt, SQL Server, MySql, Oracle, and ODBC-based connections. Furthermore, Avery label types are inclusively supported, making its implementation easier.

Lastly, Xcel label permits the formatting of content as it allows positioning, alignment, word wrap, and font size selection of your text giving you flexibility over your design. With Xcel Label, professionals can swiftly design and create customized labels, making it an exceptional software for barcode labeling.
What's New
Version 2.0: Bug fixes and stock enhancement