NetCertScanner is an enterprise software that scans your local network or internet to find expired, expiring, vulnerable, or rogue SSL certificates.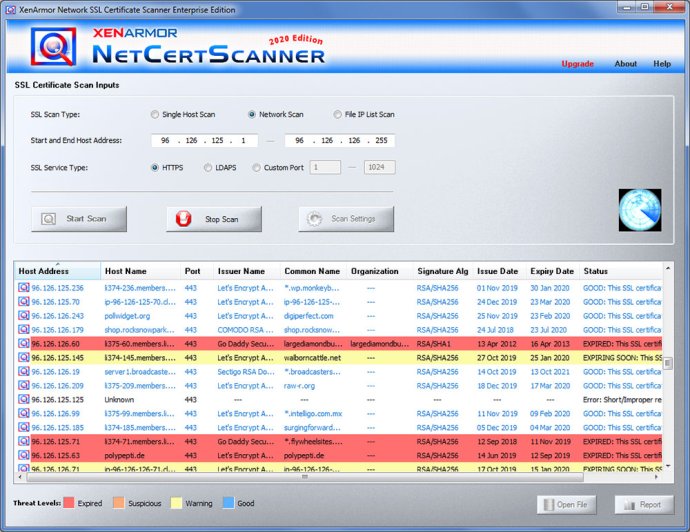 Network SSL Certificate Scanner (NetCertScanner) is an enterprise software that provides a comprehensive solution to find expiring, expired, vulnerable or rogue SSL certificates in your local network or internet. The software is based on our proprietary Half SSL Scanning Method, which makes it the fastest SSL scanner available.

The software offers a wide range of key benefits to its users. Firstly, it provides an SSL scan feature that easily finds all expiring/expired SSL certificates. Secondly, the Full Network Scan feature scans all 256*256*256 (*.0.0.0/8) hosts in just one click. Thirdly, the File Scan feature allows you to scan only known hosts from the IP/Host list file.

Additionally, the software has a Custom Port Scan feature that helps you find SSL services on non-standard ports. It is powered by Host-Port Multiplexed Multithreading technique, which makes it the fastest scanner in the market. The SSL SNI Support feature scans websites running on shared IP addresses. The Scan Settings feature allows you to fine-tune scan speed as per local network traffic.

The software also offers a Hidden SSL Discovery feature that helps you find secret or rogue SSL services in your network. The SSL Security Analysis feature helps you detect self-signed, hidden & vulnerable certificates. The Multi-colored Display feature assists in quick identification of problems, while the Display Status feature shows progress during SSL scanning.

Other useful features of the software include the ability to automatically get an email of every scan report, a separate cmd-line tool to run from your scripts, automatic storage of scan results to database, and the ability to quickly view or save certificates to disk. The software also allows you to schedule SSL scans periodically.

Finally, the software provides easy export of the report to HTML, CSV, XML, JSON, and SQLite file formats. It is also portable and has an Unlimited Edition that allows you to run it directly from USB on an unlimited number of PCs. Network SSL Certificate Scanner works on all Windows 32-bit/64-bit platforms from Windows XP to Windows 11.
What's New
Version 2022: Grand 2022 release supporting new Windows 11 platform. Major features include Faster SSL scan, 256*256*256 (*.0.0.0/8) hosts scan, 100000 File List scan, Email Report in HTML/CSV, Serial number display, Settings to control domain name resolution, Updated SSL/TLS cipher suites etc