Windows Product Key Finder retrieves license keys for over 1200 software programs, making it a versatile enterprise tool for recovering lost or forgotten keys.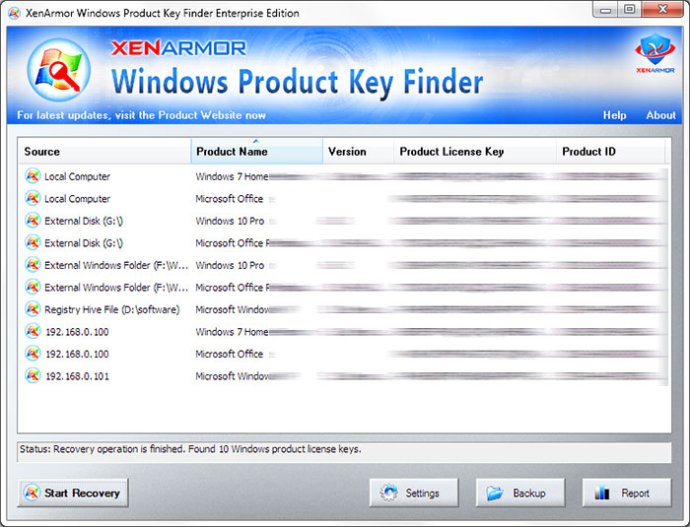 Windows Product Key Finder is an all-in-one recovery software designed to retrieve license keys for a wide range of software applications and games. With support for over 1200 popular software programs including Microsoft Office, SQL Server, Adobe, Norton, VMWare, and Winamp, this software is a must-have for anyone looking to recover lost or forgotten keys.

One of the most significant benefits of using Windows Product Key Finder is that it can recover keys not only from the user's local computer but also from external disks, remotely connected computers, and registry hive files. This feature maximizes the chances of retrieving lost keys, making the software's functionality even more impressive.

Other key benefits of using Windows Product Key Finder include its ability to recover CD keys for more than 100 popular games, such as Call of Duty, FIFA, and The Sims, among others. Users can also automate their Windows License Key Recovery operations daily or periodically, saving them time and increasing efficiency.

For advanced users, the software comes with a command-line version that can be integrated into scripts and programs, further enhancing its flexibility. Additionally, users can generate Windows Key Recovery reports in HTML, CSV, SQLite, XML or JSON formats, making it easier to manage the recovered keys.

Finally, Windows Product Key Finder works seamlessly on all Windows 32-bit and 64-bit operating systems, starting from Windows XP to Windows 10. Whether you're a casual user or an IT professional, this software should be on your radar as it offers a comprehensive and efficient way to recover license keys.
What's New
Version 5.0: Mega 2020 edition recovering license keys of 1000+ top softwares & games. Also supports key recovery of latest version of all existing softwares. New enhanced & easier GUI interface.