Xilisoft SWF Converter converts video formats like AVI, MPEG, WMV, and MKV to Flash SWF videos. It embeds SWF files in HTML pages for easy web uploading. Additionally, it converts to MP4, MOV, MP3, and M4A formats.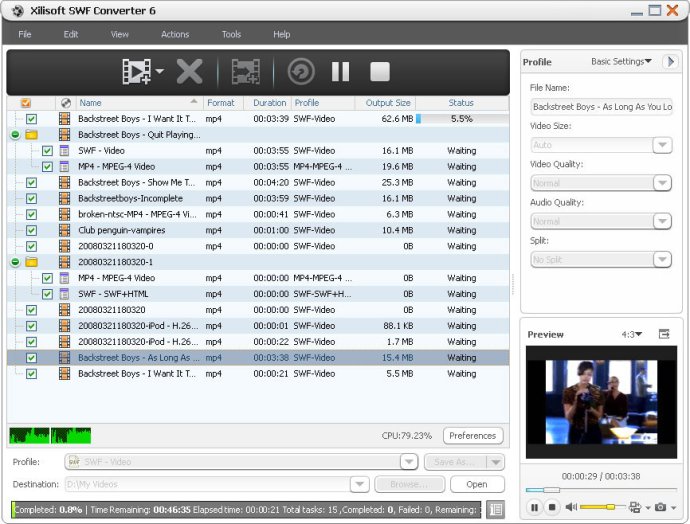 Xilisoft SWF Converter is a versatile software that can convert various video formats like AVI, MPEG, WMV, DivX, MKV, MOV, RM, VOB, and others to Flash SWF videos effortlessly. It also creates HTML pages simultaneously while converting to SWF videos simplifying the process of adding videos to the web page. Additionally, the software allows you to convert the videos to MP4/MOV/MP3/M4A files. With the support of multi-core CPU, the SWF conversion process becomes faster than ever.

The software comes packed with new and improved features like resizable built-in player, power management, etc. The software is equipped with fantastic features that make the conversion process of SWF videos efficient and faster. The software supports multi-core CPU and enables you to choose the core number for conversion. It also supports batch processing and multi-threading facilitating the conversion of multiple videos in one go.

The software automatically splits the video exceeding 16000 frames into several SWF videos during conversion for normal playback. You can set split time or size freely when converting to non-SWF files. The output parameters like video/audio quality, frame rate, bit rate, sample rate, etc. can be adjusted, and the output file size can be defined precisely with the Bitrate Calculator. The software also allows getting different output files with different parameters from the same video simultaneously.

Xilisoft SWF Converter has a concise interface design and optimal default settings, making the SWF video conversion process easy to handle. You can preview the source video and take a snapshot of favored pictures during preview. The software also includes after done actions like shut down, hibernate, stand by or exit program before conversion to save trouble. In addition, the program can run in the background to spare CPU resources for other running applications.

The software is available in English, German, Japanese, and Chinese languages, focusing on user experience by offering the most easy-to-use software and consummate service. Overall, Xilisoft SWF Converter is an excellent software that can convert various video formats to SWF videos and other file formats effortlessly with numerous advanced features that enhance the user experience.
What's New
Version 6.1.3.0419: N/A