XLOPTIM is a top optimization solver for Excel powered by LocalSolvers. It helps to tackle operational problems by offering the advantages of an optimization engine within Excel sheets.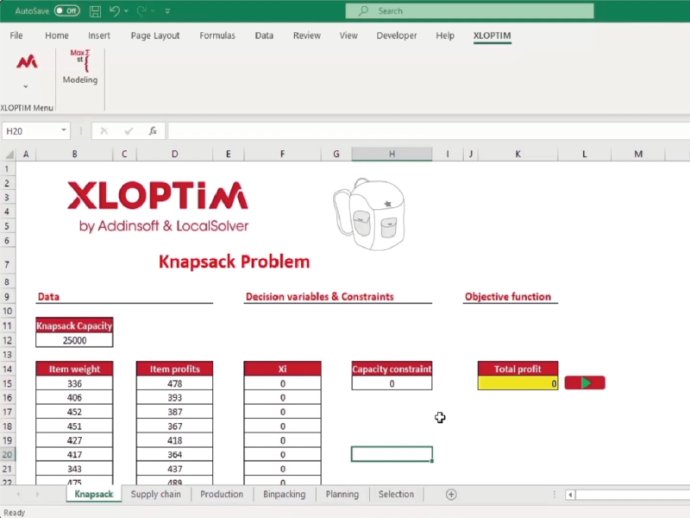 XLOPTIM is an amazing software that helps you solve your operational problems with utmost ease. It comes loaded with the LocalSolvers optimization engine, which is one of the most efficient and trusted optimization engines available. What makes XLOPTIM stand out is that it is a no-code AI platform that helps you find powerful solutions in a short amount of time. This feature greatly enhances productivity in decision-making scenarios.

The software is perfect for the education sector as well since it can be used to easily teach Operations Research and Business Analytics. It's designed in the form of drop-down menus that are built into Microsoft Excel. By using XLPARAM, one can easily get their results instantly in an Excel spreadsheet, which they can edit at their convenience and share thereafter.

XLOPTIM also boasts of great computing power. It integrates Localsolver, which is the world's leading optimization solver. Localsolver combines exact techniques such as Branch & Bound, along with heuristic techniques such as local and global search. This feature ensures that all the most in-depth optimization techniques are implemented in XLOPTIM, making it easier for you to make better decisions.

The software compiles linear and non-linear optimization methods, which ensures that it meets the needs of many areas such as supply chain, production, transport, logistics, e-commerce, energy, telecommunications, advertising, and finance.

In conclusion, XLOPTIM is an excellent solver for Microsoft Excel, which combines power and simplicity. With over 20 years of experience backing Addinsoft and Localsolver, you can be sure that XLOPTIM is a top-notch software that delivers excellent results. It's a great tool to have, especially for those in the education sector, as it comes with tutorials and videos that make it easy to learn operations research.
What's New
Version 2.2.22: Fixes and improvements
Version 2.2: Fixes and improvements
Version 2021.2.1: Fixes and improvements
Version 2020.1.3.14: Fixes and improvements
Version 2020.1.3: Fixes and improvements
Version 2020.1.1: Fixes and improvements
Version 2020.1: NO CODE OPTIMIZATION SOLVER IN MICROSOFT EXCEL®