XLRISK, distributed by Addinsoft, simplifies the process of building and evaluating risk models with advanced Monte Carlo methods. Developed by Vose Software, this software offers precise customization for various risks and ensures ease of auditing and testing.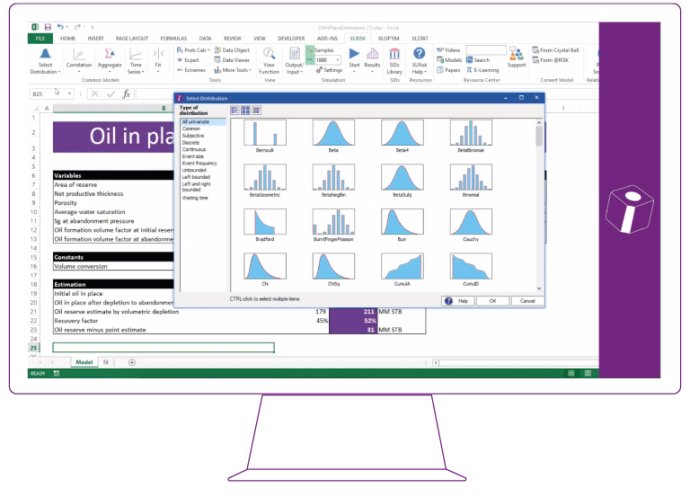 XLRISK is a powerful Monte Carlo simulation Excel add-in developed by Vose Software. This feature-packed software introduces a wide range of technical Monte Carlo method features that make building, auditing, and testing risk models much easier, with more precise matching of the problems you face.

Through XLRISK, users can easily replace uncertain values within their Excel models with special XLRISK quantitative probability distribution functions that accurately describe the uncertainty about those values. After selecting the distributions, XLRISK's Monte Carlo simulation automatically generates thousands of possible scenarios, providing a wide range of possible outcomes.

Upon completion of the Monte Carlo simulation, which typically takes just a few seconds, users can view the results in a variety of graphical and statistical formats. These formats provide information like the probability of coming under budget, investment returns for a given level of risk, capital needed for 95% project completion, and component configuration options that will give the greatest chance of achieving a particular operation time before a failure occurs.

XLRISK comes with a range of powerful features, such as Monte Carlo simulation, multiple simulation runs for scenarios, unrestricted speed, and more. Additionally, users can access a range of reporting features, including viewing simulation results statistics in a spreadsheet, exporting results to PowerPoint, Word, PDF, or Excel, sensitivity and scenario analysis, and much more.

XLRISK boasts 136 distributions, 14 correlation models, and 34 times series functions, making fitting distributions to data and correlation structures to data much more efficient. Other features include one-click function view, @RISK and Crystal Ball converters, full help file and example models, and function descriptions in spreadsheets.

Furthermore, XLRISK provides an array of technical tools, including data viewer, assumption, and result sharing between models, extreme value tools, probability calculations, Markov chain tools, and much more. This software also comes with a range of industry-specific tools, such as financial tools, insurance tools, and PK/PD pharma tools.

Overall, XLRISK is an exceptional software tool for anyone looking to analyze and manage risk more effectively. Its extensive features and user-friendly interface make it one of the best Monte Carlo simulation Excel add-ins currently available.
What's New
Version 6.1.3.3: Fixes and improvements