Yawd is a user-friendly software that allows users to quickly download new desktop wallpapers whenever they want. With Yawd, users can choose from integrated download sources, so they can ensure that the wallpapers they download are to their liking.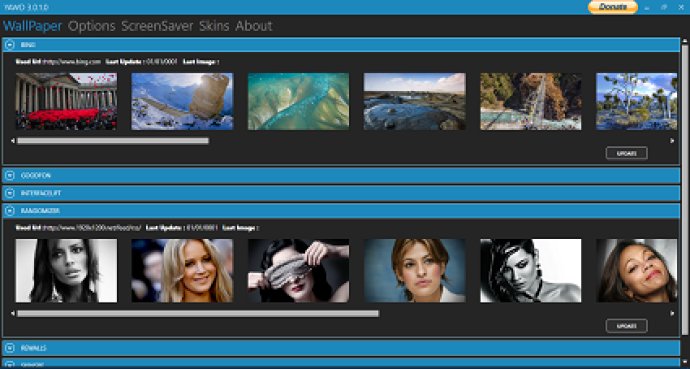 Yawd is a top-notch software that enables users to obtain new desktop wallpapers with ease. The program offers a user-friendly interface, which facilitates seamless wallpaper downloads and shuffling. Users can choose their preferred download sources from a vast array of integration options available within Yawd to ensure that their wallpapers match their personal taste.

Yawd boasts of a diverse assortment of sources where users can download wallpaper images. These sources include Bing, Ewallpapers, GoodFon, InterfaceLIFT, reWalls, The Randomizer, and wallHaven. Upon startup, the program displays only a program icon in the Windows system tray. By right-clicking the icon and selecting Open, users can access the main interface and start exploring the program's features.

To fine-tune the program to your liking, we suggest you start with a click on Options > Preferences for the initial program configuration. Here, you can specify the download directory for all wallpapers, the interval for background image changes, as well as the auto-updating and auto-start settings. In addition to wallpapers, Yawd provides screensavers based on downloaded images, adding an extra layer of customization for users.

Overall, Yawd is an excellent software option for anyone seeking to obtain and shuffle through new desktop wallpapers efficiently. Its straightforward interface, diverse sources for wallpaper downloads, and customization options make it a top choice in software for desktop wallpaper management.
What's New
Version 3.0.1.0: Added ScreenSaver functionality.
The screensaver works with multiple monitors and can display wallpaper background, Date and time, Cpu and Ram usages.
The Screensaver can be disabled by password only or with mouse move.
Of course you can choose several image folders as Screensaver.
Bug Fixing