An automated file backup software for Windows that runs as a service, providing easy and straightforward backup. It compresses files into ZIP format, archives multiple versions of backups, copies only new or modified files, and sends email reports for backup status.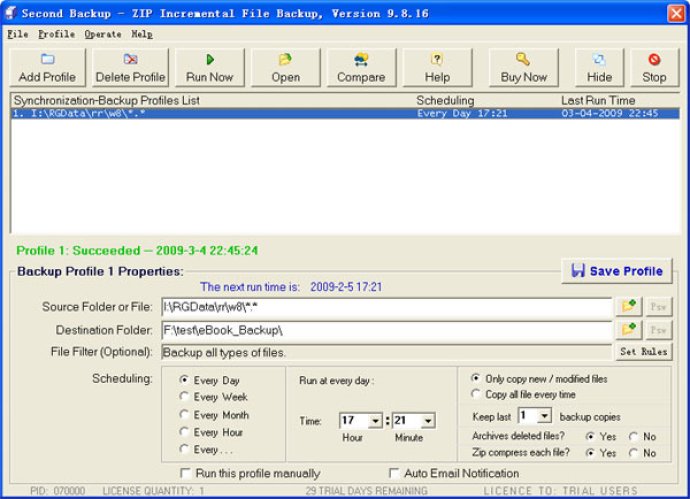 AutoBAUP is a powerful file backup utility that runs as a Windows service. This software allows you to backup any type of files and folders to various storage devices including local hard disk, USB drive, network, and more. It can even zip compress backup each file to save space.

The user-friendly and intuitive interface of AutoBAUP makes it easy to use. Simply select the files to backup, specify the destination, and set the schedule. Once done, it will work reliably in the background without taking up too many system resources.

One of its most impressive features is the ability to copy only the new or modified files. The software monitors the source files continuously and automatically copies new or changed files to the destination.

AutoBAUP also allows you to archive multiple versions of your backed-up files for different times. For instance, you can have Backup_1 for Monday and Backup_2 for Tuesday. The automatic scheduling feature lets you choose specific days of the week or month, hours of the day, or any desired time intervals.

Finally, AutoBAUP can send email notifications to let you know the backup status anytime and anywhere. This feature is especially useful if you need to keep track of your backups remotely.

Overall, AutoBAUP is an excellent option for anyone who wants a reliable and user-friendly backup solution. It provides a wide range of features and options that cater to different needs and preferences.
What's New
Version 9.8.16: 5.5