Create self-extracting ZIP files with ease using an intuitive software packed with numerous options. The software facilitates the creation of executable files in a user-friendly manner.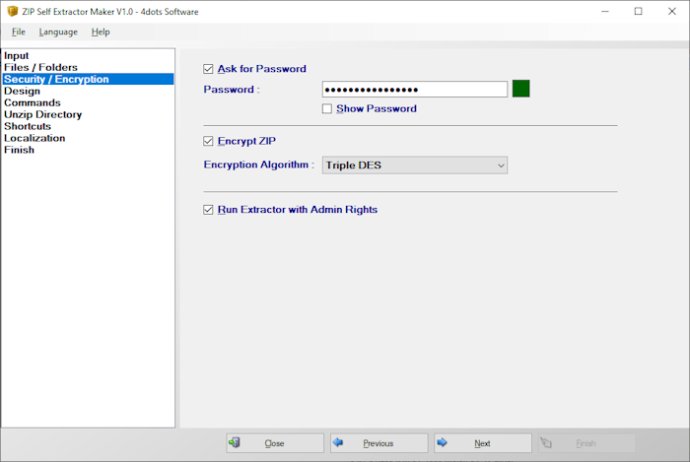 If you're looking for an easy way to create self-extracting ZIP files, try out ZIP Self Extractor Maker. This software comes with several useful options, such as specifying commands to be run before and after zip and customizing the user interface, icon, and messages for the user.

One of the software's standout features is the ability to protect the self-extracting ZIP with a password and encrypted with Triple DES encryption. You can also set a specific unzip directory or specify a temporary folder to unzip files.

Additionally, ZIP Self Extractor Maker allows you to create file and URL shortcuts easily, making it a time-saving choice. The software can create a brand new ZIP file, or you can convert an existing ZIP file into a self-extracting ZIP executable.

Other helpful features of ZIP Self Extractor Maker include the ability to localize the user interface, icon, messages, and commands to other languages, and drag and drop support. The software is also multilingual, supporting 39 different languages.

Overall, ZIP Self Extractor Maker is an easy-to-use software that offers several useful features, making it ideal for creating self-extracting ZIP files.
What's New
Version 1.9: Initial Version