Easily migrate EML to PST format with the efficient EML to PST converter. It offers secure and fast conversions with attachments, making the process a breeze in just a few steps.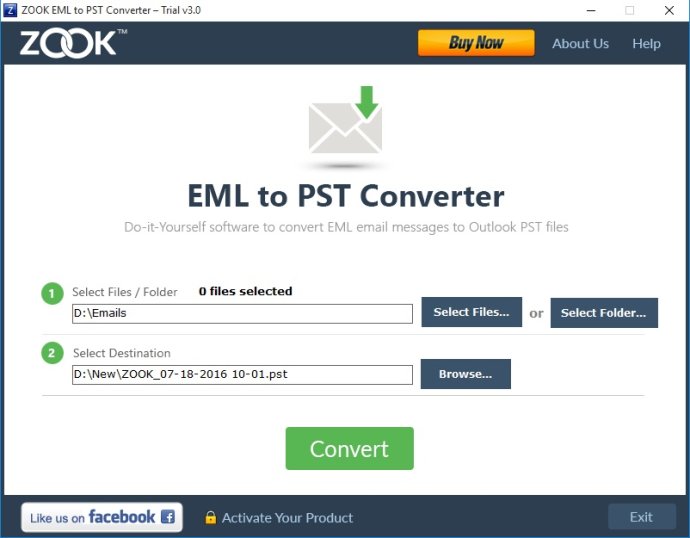 If you are looking for a reliable and efficient tool to convert EML files into PST format, then the EML to PST Converter can be the ideal solution for you. It is a software application that allows users to quickly and easily export multiple EML files into PST format without losing any data or email formatting.

With this tool, users can perform a dual method of conversion, which enables them to convert single EML files or multiple EML files into PST format. The users can choose the desired options, i.e. Select File or Select Folder options, to initiate the conversion process.

The EML to PST Converter ensures that the data integrity and other email formatting, such as header, subject, to, bcc, sender and receivers information, etc., are preserved during the conversion process. Users can also batch convert EML files into PST format in a single process, saving time and effort.

This software is fully compatible with EML files of any EML based email client, making it an ideal choice for users looking to migrate from Windows Live Mail to Outlook in a few simple steps. It is the safest solution for users to transfer Windows Live Mail data to Outlook PST format.

The software also offers users the option to sort their EML files according to their attributes of file size, name, etc., and perform the EML to PST Conversion. Additionally, users can save the resultant PST file at their desired location in the system.

After the completion of EML to PST conversion, the software automatically opens the resultant file in front of the users. The software is Windows based and can smoothly work on any version of Windows operating system, i.e. Windows 10, 8.1, 8, 7, and all below editions.

In conclusion, the EML to PST Converter is an efficient and user-friendly solution for users looking to convert EML files into PST format. Its compatibility with all EML based email clients and Windows operating systems, coupled with its simple and effective conversion process, makes it a must-have tool for any user seeking to migrate their email data to Outlook.
What's New
Version 3.0: N/A