1-2-3 PieCharts is a new 3D animated java piechart that loads quickly and provides extreme customizability. With great features, generating charts has never been easier.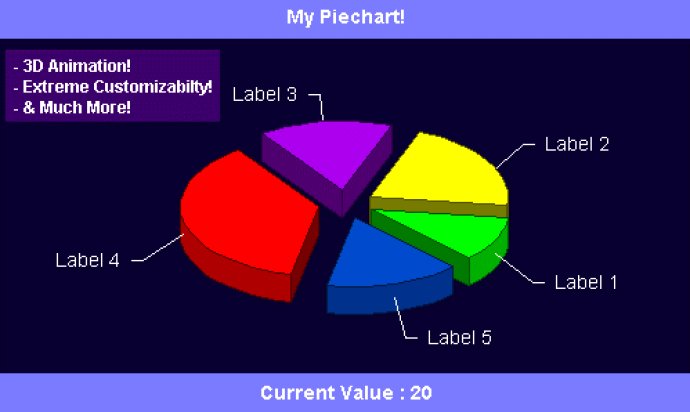 1-2-3 PieCharts is a software that offers a fun new way to create 3D animated java piecharts. This program is known for its fast loading times, incredible customizability and fantastic features.

One of the many great features of this program is that it allows for a variable amount of pie slices, meaning you can have as many or as few as you want. It also offers the ability to change the color of each pie slice to create a visually appealing chart.

Additionally, 1-2-3 PieCharts now supports hyperlinks, meaning that you can link specific pie slices to different target windows. This is a wonderful option for presenting important data in an organized and convenient way.

Another great feature is the ability to show percentages for the data values entered. You can also change the pie slice labels, giving you full control over what the chart displays.

The program also offers customizable control over background and foreground text colors, the ability to start the demo sequence automatically, and the option to set an automatic pie chart scrolling speed.

Other customizable elements include the piechart header and footer messages, font styles, and background image. With these options, you can make your chart completely unique and personalized.

Finally, you can have fun with other customizable elements such as the starting piechart height, radius, y offset, and more. Overall, 1-2-3 PieCharts is a fantastic program for anyone looking to create visually stunning and highly customizable piecharts.
What's New
Version 1.0: N/A