4EPOS is a Point of Sale software available in the Windows Store for retail stores. It offers a free trial for users to test out its features.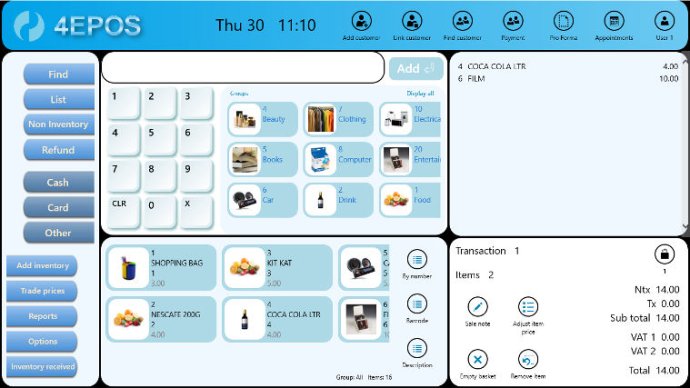 4EPOS Windows Store Point of Sale app is an exceptional Point of Sale application for retail outlets available for a free trial through the Windows Store. The app comes with a single payment price, and users do not have to worry about any ongoing fees. Moreover, the app does not require an internet connection as the data is locally stored in a commonly used XML database.

The app boasts many essential features that match the functions of more costly traditional desktop applications. With unparalleled sophistication in comparison to other Point of Sale apps in the market at this price, 4EPOS is an excellent investment for businesses that want a robust POS app.

The app offers an easy-to-use interface that lets users select their currency symbol and tax rates for their preferred location. With individual log-on options for up to ten staff with comprehensive activity logs, keeping track of each employee is a hassle-free process. Furthermore, with the built-in customer database, users can access their current balances conveniently.

Other features users will find useful include a toggle button to switch between retail and trade pricing, a non-inventory sales option, and support for barcode scanners. The app also has an incoming stock quick update facility, and tailored printouts of both inventory and customers using easy-to-follow check boxes.

Sales summaries and comprehensive logs of all transactions and tax details are also available, and users can export this information to a file (XML) or receive a daily summary email. Importing data from an existing database (XML file) is done easily, and users can export stored inventory and customer details to (XML) files.

Lastly, the Buy One Get One (BOGO) feature adds value to the software. Overall, 4EPOS is superior compared to other POS apps and is an excellent choice for any retail outlet.
What's New
Version 12.20.48: Improved reports