ABC Birthday Reminder is user-friendly software that tracks important dates, like birthdays, to prevent awkward situations and make sure you never forget to send a greeting.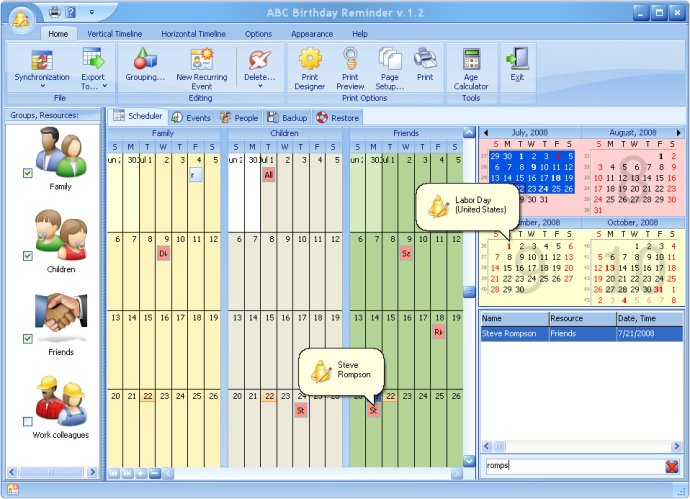 Are you tired of missing important events? ABC Birthday Reminder is the solution you've been looking for. With its advanced notification system, you'll never forget a birthday or other special occasion again.

ABC Birthday Reminder is a comprehensive toolkit that allows you to keep detailed information about birthdays and other remarkable events. You can enter recurring events, gift descriptions, gift cost calculations, notifications, and store all this information in a searchable database.

The program contains your own information, as well as a holiday database supporting the Microsoft Outlook HOL format. ABC Birthday Reminder starts silently when the OS loads and stays in the system tray, so you can easily access it at any time with a single click.

The software offers a variety of calendar views and comes preloaded with dozens of skins and color schemes. You can even synchronize events with Microsoft Outlook and export them to popular formats - iCal, XLS, HTML, PDF, XML or TXT!

With ABC Birthday Reminder, you won't have to worry about forgetting an important occasion ever again. You can even find out how old your best friend will be on a specific date 15 years from now.

Even if you don't use your computer every day, you can easily print out the list of upcoming birthdays for a month or year and keep it on paper nearby. Say goodbye to embarrassing situations and apologetic phone calls - ABC Birthday Reminder has perfect memory and will never let you miss an important date in your life. Give it a try today and see for yourself why it's the favorite of so many satisfied customers.
What's New
Version 3.9: This release includes minor fixes and enhancements.