Address Book Repair Toolbox is a software that recovers WAB files created under various Windows operating systems. Users can selectively restore contacts and recover deleted contacts easily through a user-friendly interface.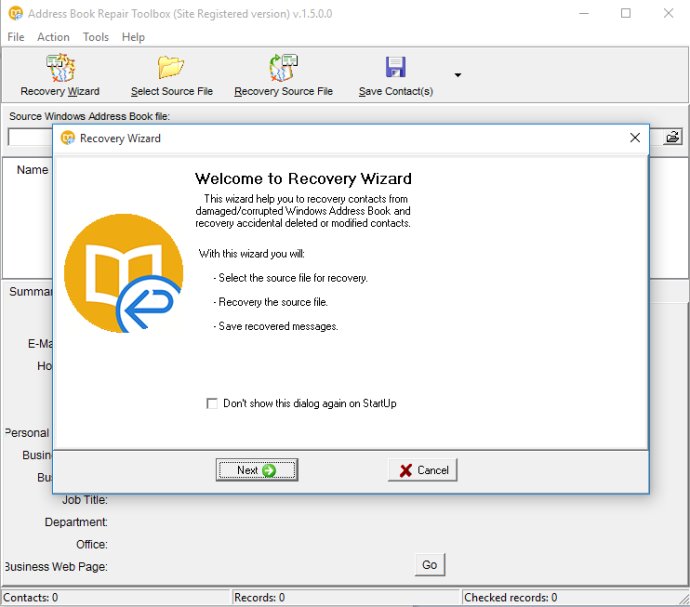 Address Book Repair Toolbox is an exceptional WAB file repair and recovery solution that is designed to make the process easy and seamless. This software can be downloaded in mere seconds from our secure portal and installed within minutes, with bespoke after-sales installation support available from our dedicated support center.

With Address Book Repair Toolbox, you have the ability to start right away with recovering damaged or corrupted WAB files, which are used to store Windows Address Book data, without having any prior file recovery experience or specialist computer knowledge. All you need to do is follow the simple and easy-to-understand step-by-step wizards to recover your damaged files, repair selective contacts, and restore them, recover deleted contacts, and ensure that your WAB files are ready to use in Microsoft Outlook Express.

Address Book Repair Toolbox is fully compatible with all Microsoft Windows platforms, including Windows 98, ME, 200, XP, Vista, Windows 7, as well as NT 4.0. The software operates by utilizing a powerful algorithm that acts as an error detection engine, which is capable of performing exceptionally deep file inspections to uncover anomalies with the underlying data. The moment it detects an error, the software matches it to our proprietal error database, which is constantly maintained by our team. Once the error is identified, the appropriate recovery protocol is readied and made available to recover the file, and you simply have to agree to proceed and complete the process.

Downloads take just seconds, and the installation process takes mere minutes. However, should you need any assistance, you can rely on our full support at every step of the procedure. That said, we've designed the solution to be easy to use. The entire solution is managed by simple-to-use wizards that are intuitive and guide you through the entire process with just three clicks of the mouse.

If you are unable to recover your WAB file, you have the ultimate guarantee – simply email us the file, and we will perform the recovery for you! No other solution is as effective or as simple to use as Address Book Repair Toolbox. So why wait? Download Address Book Repair Toolbox today!
What's New
Version 1.5.1: New release Windows Address Book repair utility