abylon SHREDDER is a privacy protection software that securely overwrites various digital traces such as files, temporary data, free space, and browser history, ensuring complete erasure.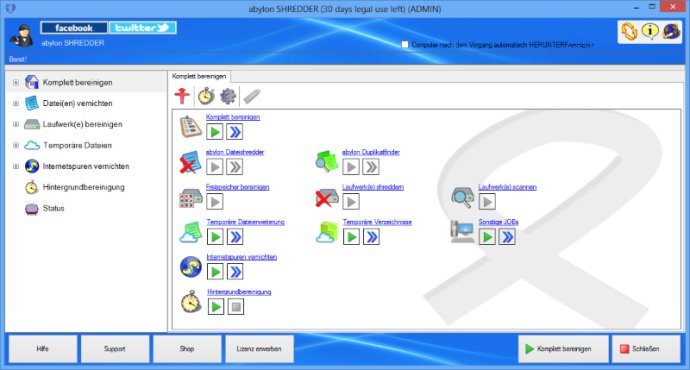 Ablyon SHREDDER is an impressive software that can permanently delete files from your computer. As you browse the internet or work on your computer, digital traces are left behind on your system. However, these traces are not completely erased by the traditional functions of the operating system, which means that it is easy for someone to recover your documents, photos, videos, and internet history.

With Ablyon SHREDDER, your data remains unrecoverable. The software overwrites complete data up to 35 times, including the Master File Table (MFT) and file names. In addition, Ablyon SHREDDER provides an option to clean the disk between files, which includes the freespace and clustertip. The Ablyon Dupe File feature is also included, which allows for the finding of duplicate files and wiping them clean to create more space on your hard drive.

Not only does Ablyon SHREDDER delete files, but it also erases your internet traces, including browsing history, cookies, and cache. If you ever decide to dispose of or sell your computer, you can wipe all the files from all the hard drives with just one step. The software also scans for deleted files on the drives to help you control the deletion process. Additionally, all the functions run automatically every defined time interval in the background, ensuring your hard drive is always clean.

One of the standout features of Ablyon SHREDDER is Ablyon PASTE, which optimizes copy and move operations of files and folders. In the case of moving, source files are automatically wiped, ensuring your data remains secure. Lastly, Ablyon FIND locates hidden files and folders, making it an excellent tool to have.

In conclusion, Ablyon SHREDDER is a great software option for those looking to completely erase their digital footprint on their computer. It provides ultimate privacy and security, ensuring your documents, photos, videos, and internet history remain confidential.
What's New
Version 23.60.1: New fetures, see https://www.abylonsoft.de/versionshistory.htm?s=SHREDDER
Version 15.90.1: N/A