Date Cracker 2000 is a tool that eliminates the date protection of shareware or trial software that stops working after a certain time. It's designed for educational use only.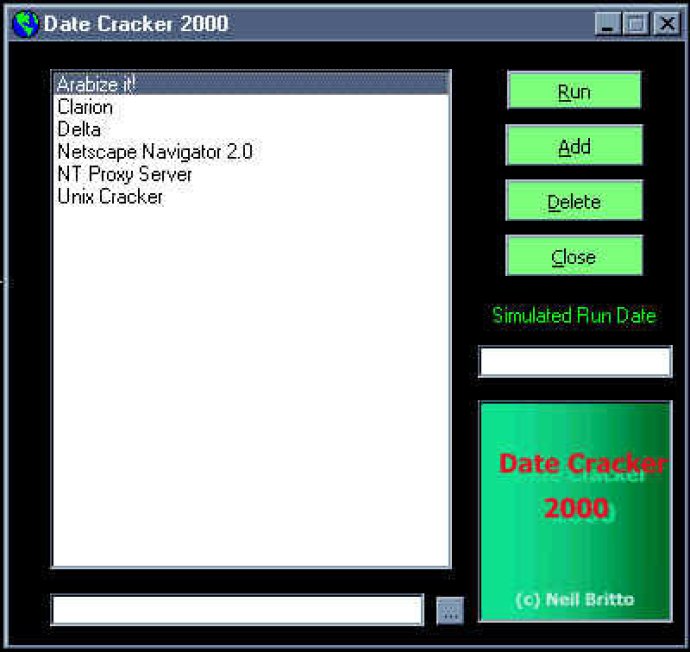 Date Cracker 2000 is a software designed to remove the date protection from programs that expire after a specific date. It proves to be especially useful for users of shareware or trial versions of software. However, it is important to note that Date Cracker 2000 should be used solely for educational purposes.

This software benefits two kinds of people: Software Users and Software Developers. Software users can benefit greatly from this program as they can now use shareware or trial versions of software indefinitely. This means that software that expire after a certain date can now be used even after that date has long passed. Simply run the software via Date Cracker 2000 to unlock this feature.

On the other hand, Software Developers must take note of programs like Date Cracker 2000. In fact, they should devise better algorithms to improve the protection of their software. It is important to note that not all software developers mind their software (Trial versions/Demos) being run by such programs, while others simply have no control over it once it has been released. Although developers cannot change this, they can ensure that subsequent versions of their software have better date protection.

Overall, Date Cracker 2000 is a great software for anyone who is looking for an affordable solution to utilize a software indefinitely. However, it's important to use the software for educational purposes only to avoid any legal or ethical complications. Keep in mind that newer versions of Date Cracker 2000 can always emerge, so it is best to keep current on any potential changes.
What's New
Version 2.0: N/A