The database migration software offers easy conversion of databases with various data types, key constraints, indexes, null value and default value capabilities. It also supports trigger, schema, command line parameter and Unicode architecture, while the Access database to MySQL converter utility offers smooth migration.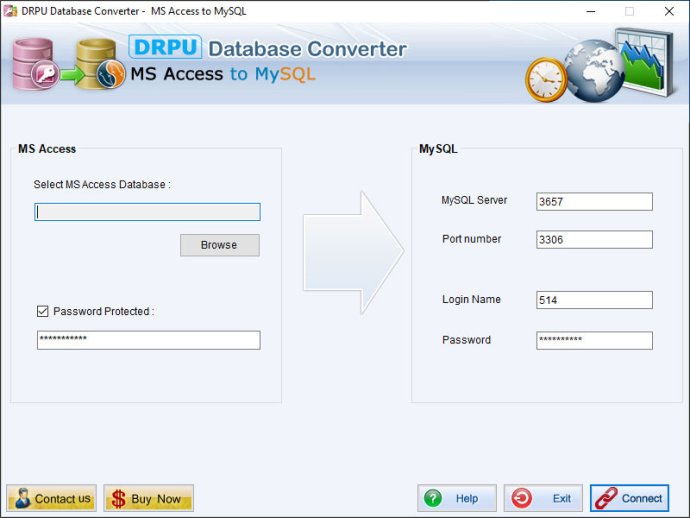 If you're looking for a convenient way of converting entire or selected records from MS Access database to MySQL format, the Access database to MySQL migration software is a great solution. It allows for an efficient migration process with a user-friendly interface that's easy to use, even for non-technical users.

The MS Access db synchronizer utility also overwrites newly created databases to existing MySQL database servers. The program supports all necessary database properties, such as indexes, variables, validation, entities, attributes, null values, unique key, foreign key constraints, and more.

Additionally, the Access database to MySQL converter tool can convert password protected MDB files from Access to MySQL database servers. Through the interactive and organized algorithm, the Microsoft Access database converter tool can make successful database conversion without loss in the database integrity.

Moreover, the database conversion program works well with all Windows operating systems and maintains reliability, consistency of records, and database integrity during the conversion process from Access database to MySQL format. The MS Access database conversion tool also provides the facility to export records from source to destination database without changing the database structure and functionality.

Furthermore, the Access database transformation solution supports both configured mode and windows mode or mixed mode. Other features include support for Unicode architecture, multibyte character set, and command line parameters. The software also allows for partial data conversions using select queries and supports all major versions of MS Access and MySQL database servers.

Overall, the Access database to MySQL software is an excellent solution for those looking for a reliable, user-friendly, and efficient way of migrating their database from Access to MySQL format without losing the integrity of the data.
What's New
Version 3.0.1.5: Added support for conversion of MS Access password protected database records