This software tool allows users to read and open Paradox tables on any computer, eliminating the need for external libraries. It offers comprehensive information on the Paradox system, table structures, and grid data. Suitable for users seeking efficient Paradox table management.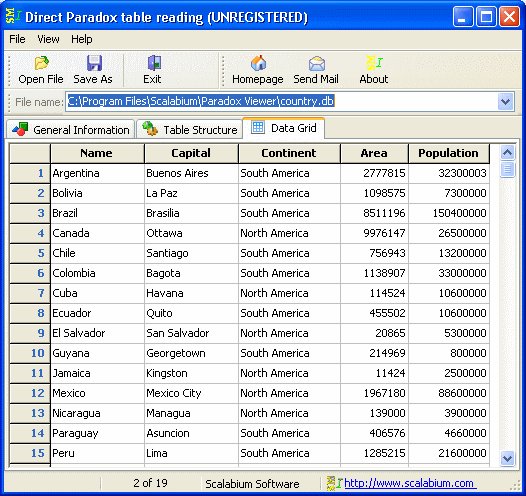 I recently had the opportunity to test out a software tool that enables users to read and access Paradox tables on any computer. This application offers a high level of convenience, as it does not require any external libraries such as BDE, ODBC, or ADO. This means that users can easily run the software on any computer without the need for additional setup or installation.

One of the standout features of this tool is its ability to provide users with access to a wide range of Paradox system information. This includes details such as file version, header size, table structure, and data, all presented in a user-friendly grid format. Furthermore, the software supports all field types, including those such as MEMO, BLOB, graphic, and rtf-formatted memo.

Another useful capability of the tool is its ability to save data in various formats, providing users with a high degree of flexibility. Users have the option to save data as a CSV/text file, HTML/XML, MS Excel spreadsheet, MS Access, or SPSS. This feature enables users to easily utilize the Paradox table data in conjunction with other software or applications.

One of the most valuable features of this software is its ability to generate SQL-script along with data dump. This functionality can greatly assist users in their data management and manipulation tasks. However, it is important to note that if a user intends to convert a password-protected table, they will need to input the correct password into the prompt dialog.

Thankfully, all of the features mentioned above can also be accessed via command-line arguments. This means that users have the ability to automate their tasks, regardless of the programming language they are using. This feature greatly enhances the efficiency and productivity of users working with Paradox tables regularly.

Overall, I found this software tool to be highly useful and practical for individuals who frequently work with Paradox tables. It offers a range of convenient features, as well as the ability to work on any computer without the need for additional setup or installation. Whether you are a beginner or an experienced user, this tool provides a valuable solution for managing and accessing Paradox tables.
What's New
Version 2.9: N/A
Version 2.8: N/A
Version 2.7: N/A