Adorage is a video production software that provides over 10,000 effect presets including Particle, Lightning, Fire, Explosions, and Pan/Z-effects. It offers a range of universal use effects to enhance your video.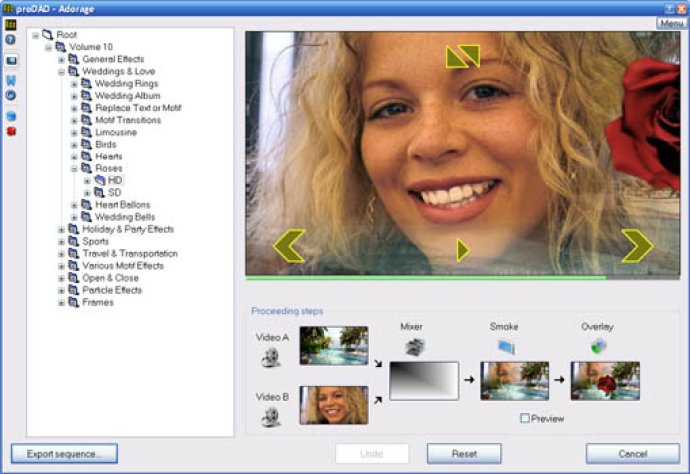 Adorage is an outstanding software that provides an extensive range of incredible effects to enhance your video productions. This giant Special Effects Collection caters to all your needs, including weddings, documentaries, sports, holidays, feature films, and family videos. With over 10,000 effect presets, it offers various effects that can be applied universally, such as particle effects, lightning effects, fire and explosions, pan/zoom/rotate, smoke and fog.

In addition to that, Adorage also offers fantastic further applications like Picture-in-Picture (PiP) effects and split-screen effects, which can be used with one video source or multiple video sources. Moreover, screen-related themes can also be added to make your videos stand out.

Simply put, Adorage has the right professional pop-up effects for every situation. With its superfast rendering in combination with the interactive user interface and various adjustments, users can customize their videos as per their specific requirements. The fully integrated plug-ins also ensure maximum efficiency for most video-editing applications.

Adorage offers 11 effect packages, which include classic effects, particles and lights, PIP-Fx and Splitscreens, universal tricks, diamond composites, Power Fx pearls, CGM power, Eyecatcher Fx, particles and objects, HD video effects, and the latest HD Global Travel and Flags FX.

Overall, Adorage has proven to be an excellent software for video productions, which is user-friendly and offers a vast range of customizable effects. Its integration with most video-editing applications and its efficient rendering process make it an ideal choice for anyone looking to create professional videos without much hassle.
What's New
Version 1.0: N/A