Advanced URL Catalog is a fully-featured bookmark management software that facilitates managing, organizing, synchronizing, removing duplicates of internet bookmarks, and checking pages for access. It integrates seamlessly with all browsers and Del.icio.us, providing a comprehensive solution for organizing online resources.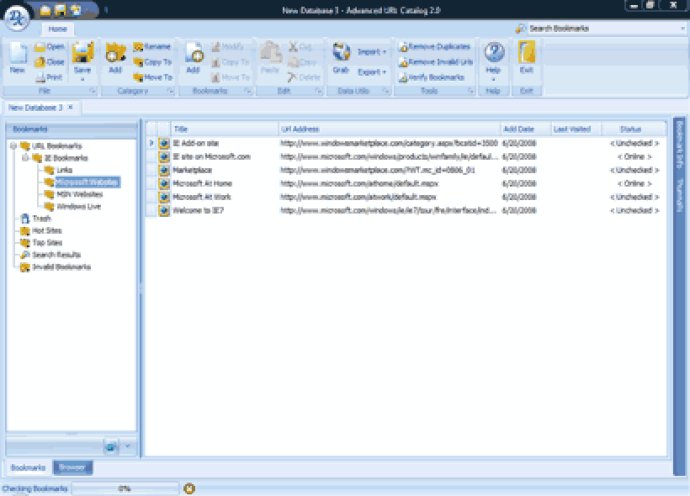 Advanced URL Catalog is a comprehensive bookmark management software that enables users to effectively manage, organize, validate, synchronize, and remove duplicate bookmarks. It offers seamless integration with various web browsers, including Internet Explorer, Firefox, Chrome, Opera, Netscape, NetCaptor, Avant Browser, MyIE2, and iRider browsers. Furthermore, the software also supports social bookmarking services, such as Del.icio.us.

The software allows users to import, export, and synchronize bookmarks between various web browsers and Del.icio.us in a few easy steps. With Advanced URL Catalog, users can easily manage their bookmarks without worrying about duplications, validation errors, or lost data. The software's robust features enable users to sort and categorize bookmarks based on topics, tags, or folders, making it easier for them to find relevant websites when needed.

One of the most significant advantages of Advanced URL Catalog is its ability to integrate with various web browsers, eliminating the need for users to switch between multiple programs to access their bookmarks. Users can organize and synchronize their bookmarks with ease, making it an ideal solution for individuals who rely heavily on bookmarks for their daily internet activities.

In conclusion, Advanced URL Catalog is an excellent bookmark management solution, offering robust features that enable users to manage their bookmarks effectively. Its powerful integration with various web browsers and social bookmarking services makes it a reliable and convenient tool for any individual or organization that needs to manage multiple bookmarks.
What's New
Version 2.39: Supports Google Chrome 41, Opera 28, Firefox 36, improved speed and memory usage